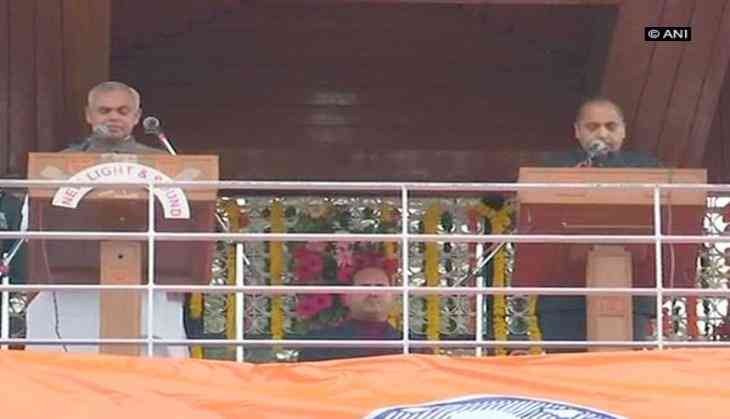 Jairam Thakur was on 27 December sworn-in as new Chief Minister of Himachal Pradesh.
He took oath of office in presence of Prime Minister Narendra Modi, Bharatiya Janata Party (BJP) President Amit Shah, and other senior party leaders.
Himachal Pradesh Governor Acharya Dev Vrat administered oath to Thakur.
Mahendra Singh, Suresh Bhardwaj, Anil Sharma, Sarveen Choudhary, Ram Lal Markand, Vipin Singh Parmar, Virender Kanwar, Vikram Singh, Govind Singh and Rajiv Sahjal will also take oath as cabinet ministers along with Thakur.
Belonging to Rajput community, Thakur is a five-time legislator from Himachal Pradesh's Chachiot (renamed Seraj after delimitation in 2010).
Known for polite nature and keeping low-profile, Thakur was born on January 6, 1965, in a farming family at Tandi village in Mandi district. He is youngest of five siblings.
The 52-year-old's entry into politics came early when he became a whole-timer of Akhil Bharatiya Vidyarthi Parishad (ABVP) during his college days and played a role in Ram Mandir movement in Jammu in 1980s.
BJP recognised him as 'organisation man' and gave him a chance to contest Chachiot seat in 1993. He lost his first election at the age of 28 with a thin margin of 800 votes.
However, since that defeat, he has never lost an election and won the same seat five-time in a row.
In 2010, he was included in Prem Kumar Dhumal's cabinet and as Rural Development and Panchayati Raj Minister.
-ANI