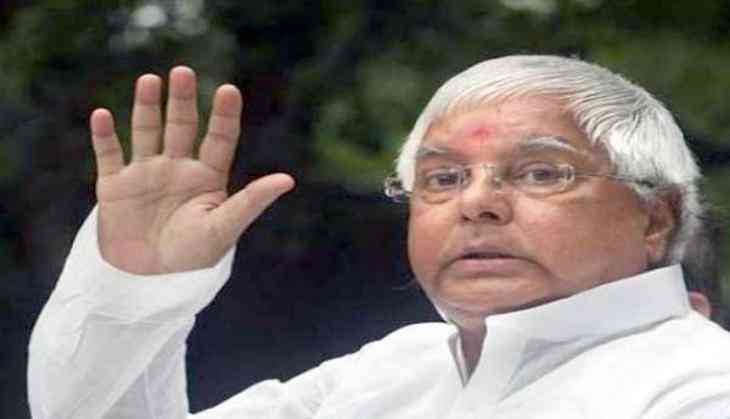 The Rashtriya Janta Dal supremo Lalu Prasad Yadav, jailed in Fodder scam case, has attacked the Bhartiya Janata Party (BJP) on Sunday straight from the jail by issuing a 'appeal' to the people of the country to not to get influenced in hate politics and false propaganda to divide the youth ahead of the Lok Sabha polls.
The ailing RJD chief, who is serving sentences after being convicted in fodder scam cases and at present lodged in Ranchi hospital, took micro-blogging site to share his views on the political situation rising in the country.
"It is a humble appeal to the people of the country that elections are around the corner and those practising hate politics will provoke the youth and your children to sacrifice their lives by raising false alarms, giving rise to misconceptions and spreading rumours," Lalu Yadav wrote on the microblogging website.
देश की जनता से विनम्र अपील है कि चुनावों का समय आ गया है, जिनकी राजनीति नफरत पर टिकी है वो लोग विभिन्न प्रकार के भय दिखा कर अथवा भ्रम व अफ़वाह फैलाकर आपके बच्चों तथा युवाओं को उनके प्राण की आहुति देने के लिए शब्दाडम्बरों के द्वारा उकसायेंगे। pic.twitter.com/mLHTSChDkl

— Lalu Prasad Yadav (@laluprasadrjd) January 13, 2019
Former Bihar chief minister has been away from active politics since December 17, after being convicted in the four out of six fodder scam cases, including Deoghar treasury case.
He has, however, been sharing his views on his Twitter handle.
"While your children would be slaying each other and wasting their lives in the name of cow and cow dung, the kids of the hypocritical jumlebaaz would be busy studying in esteemed schools and colleges and securing their own futures," Lalu Yadav said.
"Therefore, all parents and guardians are requested to be on guard themselves, besides guarding their children against rumour-mongering sanghs (organisations) and their false propaganda. A beginning has been made by them in UP and Bihar," the RJD chief added.
Also read: Lok Sabha 2019: Arvind Kejriwal not to contest Lok Sabha elections, says AAP