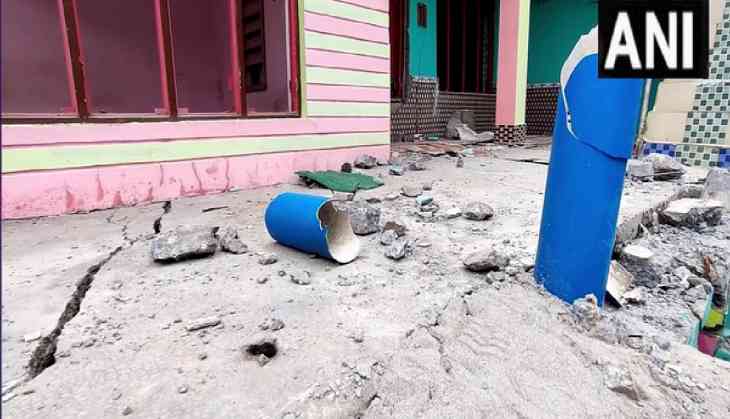 cracks appeared in houses
After Uttarakhand's Joshimath, the people in Jammu and Kashmir's Doda have also started to witness cracks in their residences.
According to the Sub-divisional Magistrate (SDM) of Doda, Athar Amin Zargar, the cracks had started appearing in a house in December last year and have now started to aggravate.
"Cracks were reported in a house in December in the Doda district. Till yesterday, six buildings developed cracks, but now these cracks have started to increase and the area can be seen sinking as several structures in the area have developed cracks," SDM Doda, Athar Amin Zargar said talking to ANI.
He further mentioned that the administration has been working to constitute a team to assess the situation. He said, "A preliminary assessment was done last night and a Geologist of National Highway also came here in the night and in the morning. They will submit their assessment report by this evening."
"The DM has talked to the Director of Geology Mining and they too are constituting a proper team for the assessment of the situation to find the actual reasons behind it. Attempts are being made to save the area, but it has sunk. It would be difficult to save it. The government is trying to find a solution so that the damage does not reach other nearby areas," the Doda SDM added.
Meanwhile, one of the locals expressed her apprehensions and demanded an appropriate shelter to keep themselves and their children safe.
"We are very much scared to stay here. We cannot even sit inside our home because the entire area has developed cracks. We seek an appropriate place to stay and provide protection to the children," she said.
Meanwhile, another local citizen there said that they have been assured of the appropriate measures to prevent any untoward incident here.
Earlier on Wednesday, a three-storey building collapsed at the Narwal Yard Transport Nagar Area of Jammu, however, the officials said that there were no casualties reported as the people were evacuated before the incident took place.
The reported incidents in the districts of Jammu are similar to the atrocities faced by the people in Joshimath town of Uttarakhand's Chamoli where severe land subsidence has sunken the holy place in the state.
Last month, hundreds of residents were shifted to relief centres in safe places after cracks appeared at several homes in Joshimath, suggesting subsidence. The reports of the widening of cracks also came to the fore after the town received heavy snowfall in January.