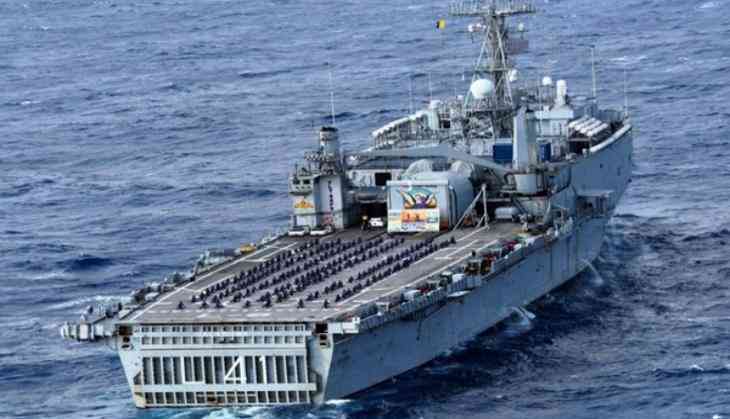 International Yoga Day: Yoga onboard INS Jalashwa, Kirch in Bay of Bengal
On the third edition of International Yoga Day, the Navy personnel performed Yoga onboard Indian Naval Ship (INS) Jalashwa and Kirch in the Bay of Bengal.
This year the theme of the day is 'Yoga for Harmony and Peace'. The yoga protocol will begin at 7 a.m. and last for 45 minutes.
The main event in India will take place at Uttar Pradesh's Ramabai Ambedkar maidan where Prime Minister Narendra Modi and Uttar Pradesh Chief Minister Yogi Adityanath will perform Yoga along with over 50,000 participants.
To mark the importance of Yoga, Indian missions abroad will also organise programmes on Yoga with participants from various sections of the society.
Yoga events will be held at various places in the city including Connaught Place, Lodhi Garden, Nehru Park, Talkatora Garden and Childrens' Park. Over 10,000 people are expected to perform various postures of Yoga in the main event at Connaught Place where Union Minister M. Venkaiah Naidu and other leaders will also join in. Besides, diplomats of various countries would be participating in the programme at Nehru Park.
Volunteers from various organisations including NDMC, Delhi Police and paramilitary forces will also perform yoga on the occasion. The vehicular traffic in Connaught Place's inner circle has already been closed till 11:30 a.m. for the smooth conduct of the event.
Prime Minister Modi will participate in the Third Edition of International Yoga Day Function at Ramabai Ambedkar Ground in Lucknow. He along with Uttar Pradesh Governor Ram Naik, Chief Minister Yogi Adityanath and Deputy Chief Minister Keshav Prasad Maurya will be performing Yoga along with above 60,000 participants including students of several schools, paramilitary personnel, government officials and volunteers.
The 80 minute Yoga session is expected to begin at around 6:30 a.m. and end at 7:50 a.m. Several dignitaries, politicians and bureaucrats will also gather at the ground.
In order to make the International Yoga Day programme a success, various organisations, NGOs and Yoga gurus have held camps and practice sessions.
Massive security arrangements are in place in the state capital in view of Prime Minister's visit. Large numbers of police officers and 25 companies of PAC are deployed.
-ANI