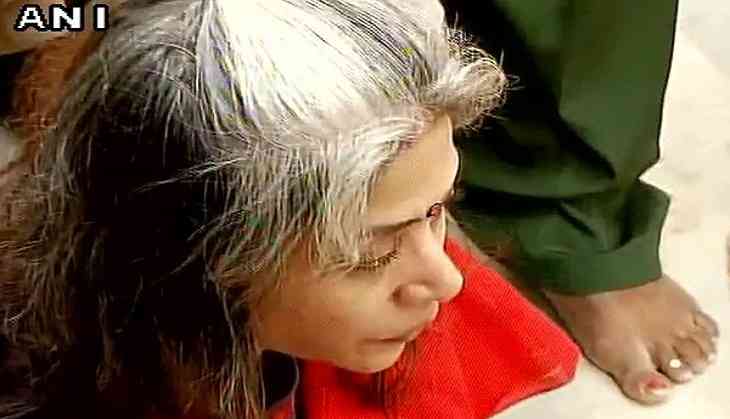 Indrani's claim of being beaten up in jail true: doctor
Sheena Bora murder case accused Indrani Mukerjea's allegation of being beaten up by Byculla prison officials appears to be true, a senior medical officer of the state-run J J Hospital said today.
Indrani, booked for rioting in the women's prison here along with other inmates, two days back alleged that she was beaten up by jail officials and threatened of sexual assault after the death of a convict sparked protest in the prison.
The former media executive's lawyer later filed an application in a CBI court here alleging that Indrani was verbally abused by jail officials and the superintendent and was threatened with sexual assault for protesting against the death in jail.
Special CBI Judge J C Jagdale yesterday said that Indrani is first taken for a medical examination and later to a police station to file her complaint.
"Indrani has received some blunt injuries and other (injuries) as well. Her claims of being beaten up appear to be true as per our check-up," the medical officer of J J Hospital, where Indrani's medical examination was conducted, told PTI today on condition of anonymity.
"It (Indrani's medical report) will be submitted to court, as the medical check-up was ordered by the court," the officer said.
According to police, following the death of woman convict Manju Govind Shette (45) on June 23, the enraged inmates rose in protest the next day, some of them went up to the prison's roof, while others made a bonfire of newspapers and documents inside the premises to express their anger.
Later, the Nagpada police booked nearly 200 inmates of the Byculla jail, including Indrani, for rioting, unlawful assembly, assault on a public servant and other relevant sections of the Indian Penal Code.
Indrani also said that she had witnessed the woman prisoner being allegedly assaulted. She said when she first enquired about Shette's health (prior to her death), she was told that the convict was fine. However, later Indrani learnt that Shette passed away.
Indrani yesterday told the CBI court that after a case was registered into Shette's death, she told the jail officials that she is ready to be a witness in the case.
Recalling the events on the day of the protest, she alleged that the superintendent had ordered a lathi-charge after turning the lights off in the jail.
She charged that even male officials in the jail resorted to cane charge on the inmates.
"I was hit on the hand and legs... I can barely walk," she alleged and added that the superintendent told her 'tu witness banne ja rahi hai....Tereko bhi dekh lenge'.
She said the superintendent threatened her, saying "We will do the same thing that we did to Shette".
-PTI