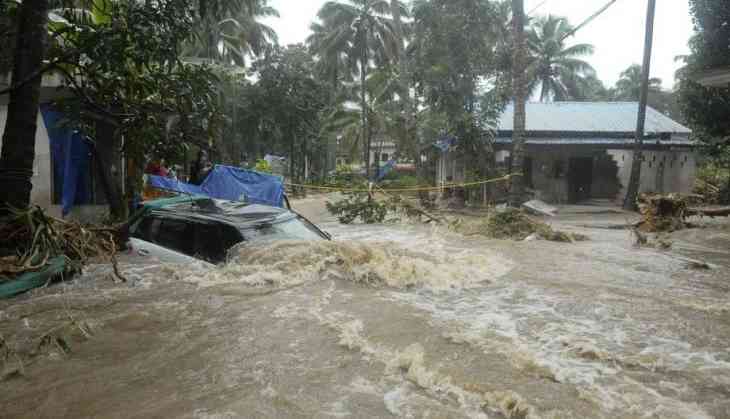 Indian Navy's Operation Madad has been further scaled up to meet the increasing requests for rescue from more parts of flood-hit Kerala.
Southern Naval Command (SNC) rescue teams have been augmented by Gemini boats, divers and other resources from both Eastern and Western Naval Commands of the Indian Navy.
On the tenth day of Operation Madad which was August 18, a total number of diving teams deployed is 72, which have been distributed to multiple locations. Eight newly inducted teams were sent out to various locations to augment those already in place. 42 teams with one Gemini boat each are deployed in Ernakulam district at various places.
One team is at Pizhala island, one at Edapally, three at Perumbavur, 16 at North Paravur, 14 at Aluva, four at Muvattupuzha and two at Kadangallur.
In the Thrissur district, the deployment at Chalakkudy has also been augmented to 10 teams, while in Pathanamthitta district, 10 teams are deployed at Chengannur and one team each at Ayroor and Pullad.
Meanwhile, the deployment at Wayanad district was scaled down as conditions have improved there and presently two naval teams with Gemini boats are deployed at Porunnannur. Altogether, rescue teams have been able to rescue more than 3375 people by boats on August 18.
In addition to the aforementioned efforts, all air assets available at INS Garuda have been extensively utilised for winching up stranded personnel, transfer of stores, boats, relief material, etc.
Air rescue has been carried out at various places of the three worst affected districts such as Thrissur, Ernakulam and Pathanamthitta. Various aircraft including ALH, Sea King, Chetak and MI 17 (of IAF) were able to rescue more than 154 people till now. Food packets along with bottled water were also airdropped on the rooftops of various houses/ churches.
Squadron leader V Joshi told ANI, "The situation is quite bad. We are trying to rescue people. Right now we are giving them food and water so that they can at least survive until the water recedes."
Approximately 350 rescued people have been accommodated at the T2 hangar inside the Naval Base, which has been converted into a makeshift relief camp. Another relief camp set up by the Naval Armament Depot, Aluva catered for another 170 persons. The Naval Kindergarten (NKG) School within the Naval Base has also been converted into a relief camp and approximately 250 persons have been accommodated there. Two Kendriya Vidyalayas, close to the Naval Base and administered by SNC, have also been kept standby as additional relief camps to house more displaced persons.
A community kitchen set up by INS Venduruthy at the campus of Cochin University of Science and Technology (CUSAT) is catering for 7000 people. At least 17 cooks, four officers and 13 staff are relentlessly working to serve all three meals and tea twice a day for the needy. Kerala government authorities have also contributed to this kitchen, providing condiments and other edible items for its smooth functioning.
Prime Minister Narendra Modi visited Kochi on August 18 to survey the flood-affected areas by helicopter, and take a review of the rescue operations being undertaken by various agencies, including the Indian Navy.
The Prime Minister was received and seen off at INS Garuda by Governor P Sathasivam, Kerala Chief Minister Pinarayi Vijayan and Vice Admiral AK Chawla, AVSM, NM, VSM, Flag Officer Commanding-in-Chief, Southern Naval Command, along with other senior state government dignitaries.
Yesterday, Vijayan said that the death toll in the flood-hit state has increased to 357. The Chief Minister further informed that the state has suffered a loss of Rs 19,512 crores due to floods.
The Centre has launched massive rescue and relief operations in the southern state. Army, Navy, Air Force, Coast Guard and National Disaster Response Force (NDRF) have been asked to mobilize additional manpower, boats and helicopters to scale up the rescue and relief operations. Food packets and drinking water are also being rushed.
The Chief Ministers of various states have also come forward to help the southern state cope with the huge-scale devastation and extended financial aid.
(ANI)