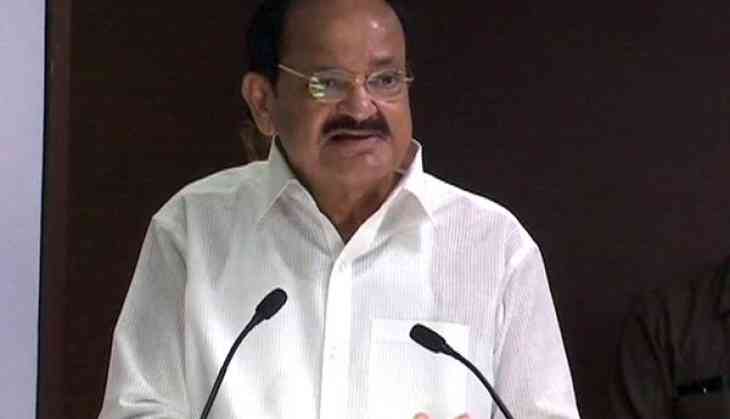 Vice President Venkaiah Naidu
India and Serbia on Saturday signed agreements on cooperation in plant protection and plant quarantine and on-air services, following the talks between Vice President Venkaiah Naidu and Serbian President Aleksandar Vucic.
The two sides also agreed to expand their bilateral cooperation, especially in the areas of economic and cultural relations and join hands to fight terrorism.
"I had extensive discussion with President Vucic this morning on all important aspects of our bilateral relationship as well as global and regional issues of common interest. We expressed our commitment to further build on long-standing friendly ties between our two countries," Vice President Naidu said in a media statement following the bilateral talks between the two sides here.
He added that in the area of economic cooperation, both sides agreed to enhance cooperation in the areas of priority such as agriculture, food processing, defence manufacturing, science and technology, information technology, infrastructure, tourism and pharmaceuticals. He mentioned that the two sides have expressed satisfaction at the investments made by Indian companies in Serbia especially in sectors of farm equipment like tractors, food processing, and pharmaceuticals.
"India and Serbia are on the path of economic reforms to realise the goal of socio-economic development of our peoples. India as one of the fastest growing major economies in the world, presents opportunities for win-win partnership between Serbian and Indian entrepreneurs in multiple sectors to realize the vast potential of our bilateral relationship," Vice President Naidu said.
He added that the agreement on cooperation in plant protection and plant quarantine would contribute to increasing bilateral trade in agricultural products while the Air Services Agreement would boost trade and tourism by the launch of direct air connectivity between India to Serbia in future.
"We conveyed our mutual satisfaction at the growing cultural cooperation and people-to-people relations between the two countries. I thanked President Vucic for Serbia's unilateral decision to waive visa for short visits by Indians travelling to Serbia. India has also extended e-Visa facility to Serbian nationals. Our initiatives would further promote tourism and greater people-to-people contact," Vice President Naidu said.
He added that in their discussions on Saturday, they also exchanged views on multilateral issues and agreed to intensify cooperation in the areas of mutual interest. "India and Serbia have had close cooperation at the United Nations and other multilateral fora. We agreed that United Nations need to be reformed to reflect the realities of today and to address current global challenges. We resolved to fight the scourge of terrorism in all its forms and manifestations and agreed to strengthen cooperation in the fight against terrorism at various international fora. It is a global challenge and requires a global response," Vice President said.
Vice President Naidu is scheduled to meet Speaker of Serbian National Assembly, Maja Gojkovic and Prime Minister Ana Brnabic. He will also address the special session of the National Assembly of Serbia. Vice President Naidu along with President Aleksandar Vucic will together attend the India- Serbia Business Forum and will interact with the business representatives of both countries.
India and Serbia are, this year, celebrating the 70th anniversary of the establishment of diplomatic relations between them.
"India and Serbia have historic and special relations as co-founders of the Non-Aligned Movement. Our relationship is based on mutual trust, mutual understanding and support to each other on issues of core interest...I am happy that today, Serbia Post and India Post have jointly released commemorative stamps on the renowned Serbian scientist and inventor, Nikola Tesla and the great spiritual leader of India, Swami Vivekananda, to celebrate this occasion," Vice President Naidu said.
-ANI