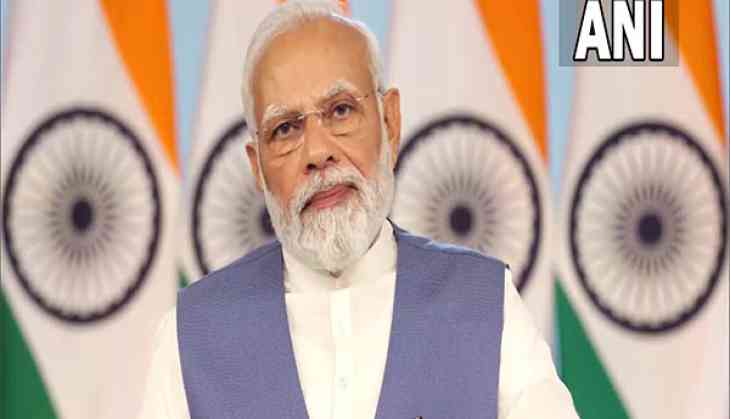 Prime Minister Narendra Modi, addressing a post-Budget webinar on 'Economic Empowerment of Women', said India can move forward only if it raises the level of respect towards its women.
"India can move forward only by raising the levels of respect of women and the sense of equality. I call upon all of you to move forward with the determination to remove every obstacle coming in the way of all women-sisters-daughters," PM Modi said.
It is the 11th of a series of 12 post-budget webinars organized by the government. The objective behind hosting the webinars is to seek ideas and suggestions for the effective implementation of the initiatives announced in the Union Budget 2023.
Further, speaking about women, he said the number of girls studying up to high school and beyond has tripled in the last 9-10 years. Girls' enrolment in Science, Technology, Engineering and Maths is at 43 per cent today, more than countries like America, the UK and Germany.
In fields like medical, sports, business or politics, not only the participation of women has grown but they are leading from the front, he said.
"The reflection of how we can take the country forward with the help of half of the country's population and how we can increase the potential of women's power is visible in this budget," PM Modi said. He mentioned Mahila Samman Saving Certificate Scheme where women are to get 7.5 per cent interest.
He said PM Awas Yojna is also a step in the direction of women's empowerment as most of the three crore houses are in the name of women.
"PM Awas has given women a new voice in economic decisions of the household," he said. The Prime Minister concluded his address by quoting from the article of President Droupadi Murmu, which she wrote on International Women's day.
Also Read: BSF arrests 3rd intruder near India-Pakistan border in Punjab within two days
The President wrote "It is up to us, each of us, to hasten the progress. Thus, today, I wish to urge each of you to commit yourself to one change, in your family, neighbourhood or workplace - any change that would bring a smile on a girl's face, any change that would improve her chances of moving ahead in life. That is one request, as I said before, straight from the heart."