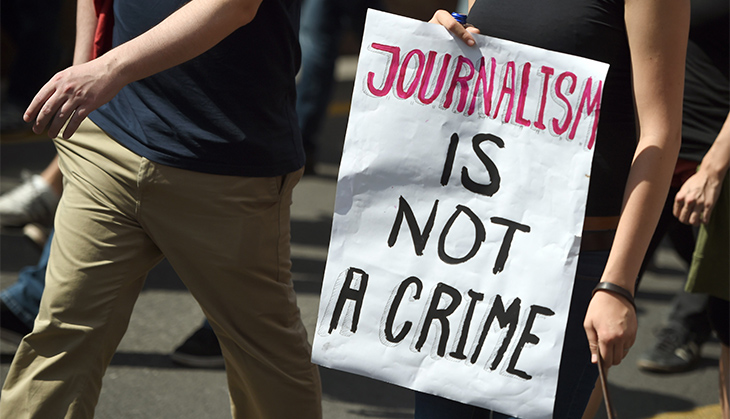 On the eve of World Press Day, 3 May, Amnesty International called for the release of four journalist who have been arrested in Chhattisgarh for writing against the Raman Singh government.
The four journalists, Santosh Yadav, Somaru Nag, Prabhat Singh and Deepak Jaiswal, have been in police custody since July 2015.
The international body also states that Chhattisgarh continues to be one of the most dangerous places for journalists and human rights defenders in India. The release also quoted the Editors Guild Of India fact finding committee as saying that they could not find 'a single journalist who could claim with confidence that he/she was working without fear or pressure' in the Chattisgarh.
The press release by Amnesty International also announced that Patrakar Suraksha Kanoon Sanyukt Sangharsh Samiti - an organisation by Bastar journalists - will organise a protest in New Delhi on 10 May.
The Hoot has also released a report on the vulnerability of working journalists in India, especially at the district level.
According to the report, 10 defamation cases, 2 legal notices, 6 police actions, 1 death, 4 legal actions, 26 attacks and 6 threats have been reported against journalists in the first four months of 2016 alone. Chhattisgarh, Uttar Pradesh and Tamil Nadu top the list of states with the highest number of defamation cases against journalists.
The Hoot also cites the example of Jagendra Singh, the journalist who was set on fire in June 2015 in Shajahanpur. Last week, Singh was awarded with the RedInk Veer Patrakar Puraskar by the Mumbai Press Club.
However, there has been no arrest in the case case. The Hoot also quoted Singh's children as saying that they had been pressured into withdrawing the case they had filed after the UP government gave them a Rs 30 lakh cash grant and promised one of Singh's sons a job.