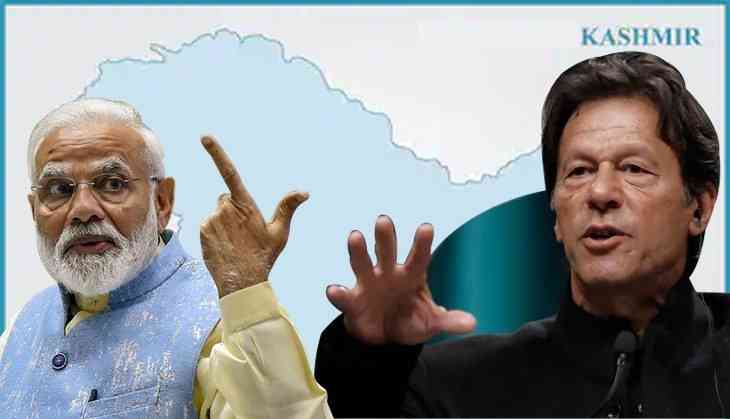 Pakistan Prime Minister Imran Khan threatened nuclear war over Kashmir issue to India on Monday. He said while addressing the nation and speaking over the Kashmir issue.
Imran Khan in his speech blamed the Prime Minister Narendra Modi-led government for the escalation of tensions between the two countries by scrapping the article 370 in Jammu and Kashmir. He also added that if the two countries engage in a war now then, there will be chaos as both countries are nuclear states.
Pakistan PM also said that he will raise the issue at every international forum, including at the UN General Assembly.
"If this issue worsens to a war situation, then one must remember that both the countries are nuclear states. And no one wins a nuclear war. It is not like destruction will take place here, the repercussions will be felt across the world. Superpowers of the world must also take responsibility for this. Whether the world supports us or not, Pakistan will go to any lengths now. We will be with them (Kashmiris) till the last breath," Pak PM said.
Imran Khan: If conflict moves towards war then remember both nations have nuclear weapons &no one is a winner in nuclear war and it has global ramifications.Super powers of the world have a huge responsibility..whether they support us or not Pak will go to every extent (file pic) pic.twitter.com/6Rgpg2kscS

— ANI (@ANI) August 26, 2019
However, his threatening came after Prime Minister Narendra Modi's interaction with US President Donald Trump on the sidelines of the G7 Summit in France on Monday. PM Modi stated that Kashmir is 'bilateral' matter between India and Pakistan.
After the nuclear threat of Pak PM Imran Khan, social media users have started criticizing his statement and said that India doesn't get scared of fake nukes of Pak.
Check out some reactions that surfaced after Imran Khan's nuclear war threat to India:
Indeed. In fact India has called off their nuke bluff so many times already that Slapping Paxtan has becoming a Boring affair now. We are here to compete with elite economies and Pak stands nowhere.

— Dev - Bhartiya 🇮🇳 (@Peaceful_Foodie) August 26, 2019
Pakistan's nuclear weapons are the cleavage it uses to attract the world's attention #G7Summit

— Rishi Bagree 🇮🇳 (@rishibagree) August 26, 2019
Pakistan is not a superpower. Let's get that thing straight.

— Vexatious Vivek (@___v__i__v___) August 26, 2019
Dear Imran, India's current PM doesn't get scared by nuke threats. Perhaps even the world doesn't take you seriously. Gone are those days when Paxtan blackmailed nations with nuke power.

— Devika (@Dayweekaa) August 26, 2019
apne logon ke baare mein soch bhikhari.. thode dino baad tujhe apne nuclear weapons bech kar timatar aur roti-naan ka jugaad karna padega..

— Keh Ke Peheno (@coolfunnytshirt) August 26, 2019
Pakistan Lost to India.

4-0 (War)

7-0 (Cricket world cup)

5-0 (T-20 world cup)

15-1 (International Court of Justice)

4-1 (United Nations Security Council)

Lost Support From USA (KASHMIR ISSUE)

Lost #FATF

मतलब हर जगह जलील होना इस मुल्क की फितरत बन चुकी ह

— Trilok Singh.🇮🇳 (@singhtrilok7) August 26, 2019
Dude, India has enough land and people to survive a Nuke war.

Tum apna dekhlo 😂😂😂😂😂😂😂

— Sugandha K (@sugandhakohli) August 26, 2019
Modi saved Trump from Dangue. .
😂😂😂 pic.twitter.com/dpoxvUrjNy

— 🚩🚩नीतीश कुमार🚩🚩 (@nitishkr_) August 26, 2019
What is your reaction over Pakistan PM Imran Khan's threat? Comment...
Also Read: Imran Khan issues nuclear threat to India after Trump denies intervening in Kashmir issue