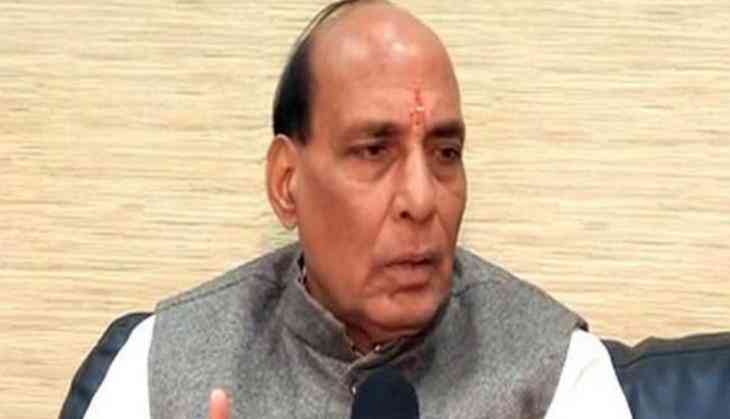 Union Home Minister Rajnath Singh on Tuesday saluted all sections of society of Jammu and Kashmir for unanimously condemning the terrorist attack on the Amarnath Yatra pilgrims.
Seven pilgrims were killed and 15 other injured when a bus was attacked by terrorists in Jammu and Kashmir's Anantnag district yesterday.
"We have been deeply pained by the incident and the entire nation is in shock over it. The incident is unfortunate. I want to salute the people of Jammu and Kashmir, that all the sections of the state condemned the attack," Rajnath said.
Similarly, Bharatiya Janata Party (BJP) national general secretary Ram Madhav condemned the dastardly act, while asserting that there was no security lapse.
"It is very condemnable and a cowardly act. We will not even spare the last terrorist associated with such incidents. There has been no security lapse. Security forces have been alert all the time," Madhav told ANI.
He further said that efforts will be made to ensure that the Yatra concludes successfully.
Manipur Governor Najma Heptulla said India's neighbor (Pakistan) is arming the terrorists and sending them across the border so that they are able to hamper India's peace and development.
"I condemn it in the strongest possible words. It is the worst thing which can happen. We have to give string warning to terrorists that we are not going to tolerate such kind of activities on Indian soil. We all are one and we want to live as one," Heptulla told ANI.
People all across the country are condemning the incident, with some even staging protests against Pakistan.
Prime Minister Narendra Modi and President Pranab Mukherjee have also strongly condemned the incident.
Various political parties have called for a shutdown across Jammu and Kashmir.
Several parties, including the National Panthers Party (NPP), the Vishwa Hindu Parishad (VHP), the National Conference and the Congress called for a shutdown to protest the killings.
Terrorists had on Monday night opened fire on a bus carrying over 30 pilgrims in Anantnag district.
The incident occurred at around 8.20 p.m. yesterday between Baltal and Mir Bazar. Reportedly, the bus was neither a part of a convoy nor registered with the shrine board.
The 90th and 40th battalions of the Central Reserve Police Force (CRPF) have been deployed at the spot to prevent further untoward incidents.
-ANI