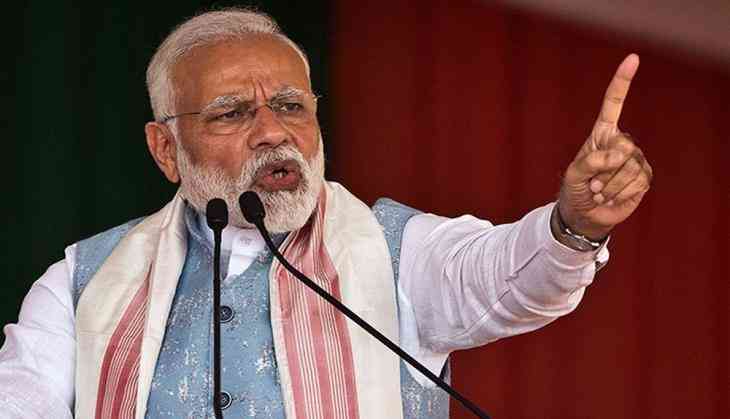 Mounting attack on the opposition leaders for their rags to riches stories, Prime Minister Narendra Modi on Tuesday said that he has lived his life for the poor people of the country.
"I have lived my life for the poor people of the country. The opposition leaders were initially poor but have amassed properties worth crores. Since when so much salary was given that one became the owner of billions," he asked while addressing an election rally here.
In an apparent reference to subaltern leaders and their political outfits like Lalu Prasad Yadav led Rashtriya Janata Dal (RJD), Prime Minister Modi said that they believed that some caste groups were their slaves and they would vote as per their wishes.
"They believe that some caste groups are their slaves and they will do whatever is ordered by these leaders. However, they forget that we are Indian first when it comes to the interests of the country," he said.
Prime Minister Modi said: "It is these leaders who get votes in the name of the poor. They sit on high posts. When it comes to working for the poor, they forget them."
"Do these 'Mahamilavati' (highly adulterated) people ever talk about development? Do they reveal their agenda of India's development? Be it Congress or Rashtriya Janata Dal, there is a fault in their ideology itself," he said.
Alleging that opposition leaders were competing among themselves to abuse him, Modi said: "They cannot win. So they are venting out their frustration by abusing (me)."
Reiterating BJP's commitment not to compromise with the national security, Prime Minister Modi said: "NDA government gave free hand to our agencies and sons. That is why there is cleanliness within the country and across the border too."
"We are busy in cleaning terrorists and Naxals, while Congress and 'Mahamilavatis' are busy in defending them. They want to give free license to Naxals, terrorists, stone pelters and their supporters. They are on a mission to put the national security and unity to risk."
Bihar, where 40 Lok Sabha seats are at stake, is undergoing the Lok Sabha polls in all seven phases. So far, the polling has taken place on 32 seats, while remaining eight seats including Buxar will go to polls on May 19, the last phase of voting. The counting of votes will take place on May 23.
-ANI