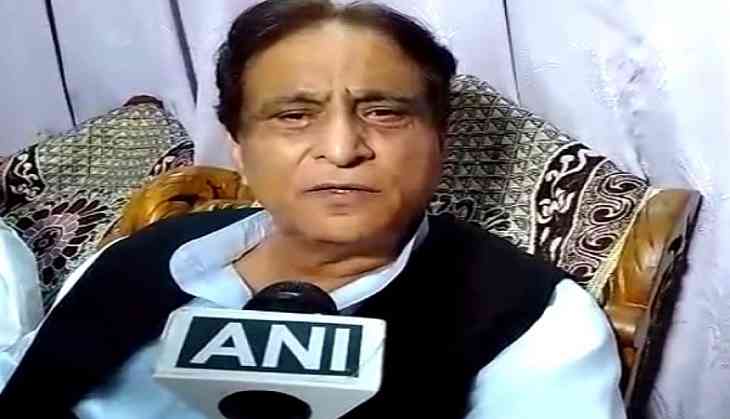 Samajwadi Party leader Azam Khan Wednesday said the ruling BJP invoked his name whenever elections are near, treating him like an item girl .
He was reacting to the registration Tuesday of the second FIR against him in a week, this time on a complaint by a pro-Ambedkar group for allegedly making defamatory remarks against the Dalit icon two years ago.
On October 17, Rajya Sabha member Amar Singh had filed an FIR against the controversial SP leader for allegedly threatening his daughters with acid attack.
"I am the item girl of the BJP, Azam Khan reacted, indirectly suggesting that his name helped the Bharatiya Janata Party attract voters.
They contest all the elections on my name. The last assembly election was fought on my name and the same is the case with the coming Lok Sabha elections," he added.
The present state of affairs is such that I do not remember how many cases have been filed against me and where, he told reporters on the sidelines of an event in Badaun.
I keep getting summons and warrants," he said.
In Lucknow, the BJP slammed Azam Khan over the indecent" item girl remark.
"Azam Khan has become mentally deranged. The days of politics of vote bank, appeasement and corruption, which he had been indulging in, are over," Uttar Pradesh BJP spokesperson Chandramohan said
"The indecent words which he has used only indicate his thought process. This is the thought process of the Samajwadi Party and people who are associated with SP chief Akhilesh Yadav," he added.
The latest FIR was registered on a complaint by Ambedkar Mahasabha general secretary Amarnath Prajapati at Lucknow's Hazratganj police station.
Prajapati alleged that during the inauguration of the Haj House in Ghaziabad in 2016 Khan made an objectionable statement against B R Ambedkar, terming him someone who "grabs land".
"All over the state, there are statues of a person whose finger seems to say that it owns not only the plot in which it stands but also the plot towards which it is pointing," the SP leader allegedly said.
A week earlier, Rajya Sabha MP Amar Singh lodged an FIR against Khan at the Gomti Nagar police station for allegedly threatening him and his 17-year-old twins during a television interview.
At an event organised by a Muslim organisation in Badaun, Khan urged bringing the Dalits, the backwards and the deprived together to defeat communal forces.
He mocked the BJP over the Ram temple issue, saying it should ignore the opposition and go ahead with the construction.
Do whatever you want but don't misguide the country," he said.
-PTI