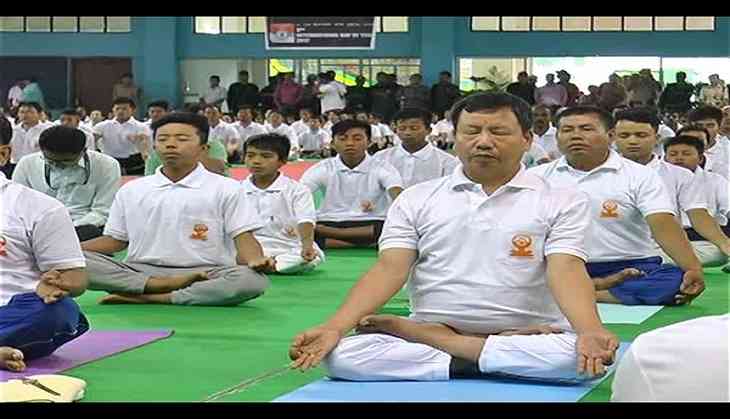 With the whole nation being gripped in the 'Yoga fever', a special fervour for the day was witnessed in the north-eastern region of the country.
Commemorating the festival, Assam Chief Minister Sarbananda Sonowal inaugurated a Yoga centre at Guwahati's Janata Bhawan.
Sonowal, along with Patanjali Managing Director Acharya Balkrishna, performed Yog 'aasans' and led thousands of Yoga enthusiasts in Assam's Nalbari.
Balkrishna said, "The message of Yoga has spread in the entire north-east and I believe this would bring peace and strengthened brotherhood in the lives of the people, which would help in the nation's development."
A similar enthusiasm was witnessed in Arunachal Pradesh.
Arunachal Pradesh Chief Minister Pema Khandu, along with his council of ministers and Chief Secretary, also participated in the festival.
Khandu appreciated the efforts of the public, who were a part of the festival despite the heavy rainfall.
"Despite rain, the participants' strength was very huge, but basically I think Yoga should be practised by every section of society of people," Khandu said.
Manipur Chief Minister N. Biren Singh, along with the Union Human Resource Development Minister, performed Yoga at Imphal's Khuman Lampak Indoor stadium with the public of the State.
Minister of State for Home Affairs Kiren Rijiju in Sikkim also attended a Yoga session marking the celebration of International Yoga Day.
In Tripura, the old and the young were seen performing various Yoga 'aasans' like Surya Namaskar and Kapalbhati.
In the states of Meghalaya, Nagaland and Mizoram too, many health conscious people gathered at Yoga venues to observe the festival in a grand manner.
-ANI