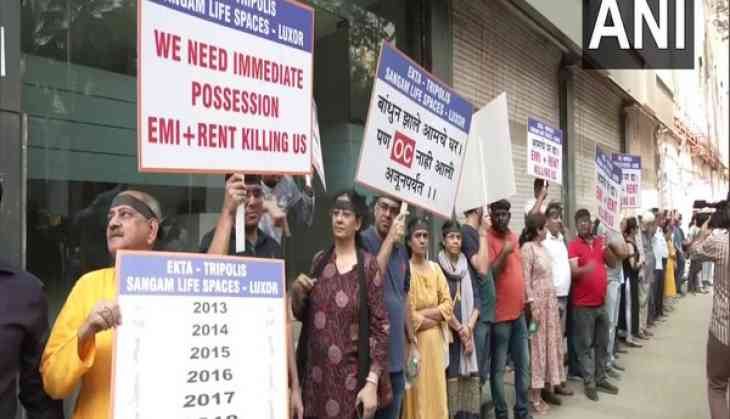 Homebuyers along with their families on Sunday held peaceful protests in stalled residential complexes at Patra Chawl in Goregaon (W) here demanding immediate possession of their flats.
Protestors formed a human chain outside the complexes Ekta Tripolis and The Luxor by Sangam Lifespaces.
On January 24, the Mumbai Sessions Court adjourned the hearing in the Patra Chawl land scam case till February 27, one of the accused being Shiv Sena (Uddhav Balasaheb Thackeray) MP Sanjay Raut.
The hearing was held for framing of charges in the Patra Chawl scam case. Shiv Sena (Thackeray faction) MP Sanjay Raut and Praveen Raut reached the sessions court for the hearing.
The hearing was adjourned due to the non-submission of summon report to others by investigating agency.
MP Sanjay Raut and former director of Guru Ashish Construction Pvt Ltd Praveen Raut reached the court for the hearing.The hearing was adjourned until February 27 due to the investigative agency's non-submission of the summon report.
Shiv Sena MP Sanjay Raut and the second accused Praveen Raut were granted bail in November 2022 by the PMLA court in Mumbai in connection with the Patra Chawl land scam case.
Raut was arrested by the Enforcement Directorate (ED) on August 1 in connection with alleged financial irregularities in the redevelopment of the Patra Chawl in suburban Goregaon in Mumbai.
On June 28, 2022, he was summoned by the ED in connection to the prevention of the money laundering case pertaining to the Rs 1034 crore Patra Chawl land scam.
Back in August 2022, his wife was also summoned by the Enforcement Directorate in connection with the scam.