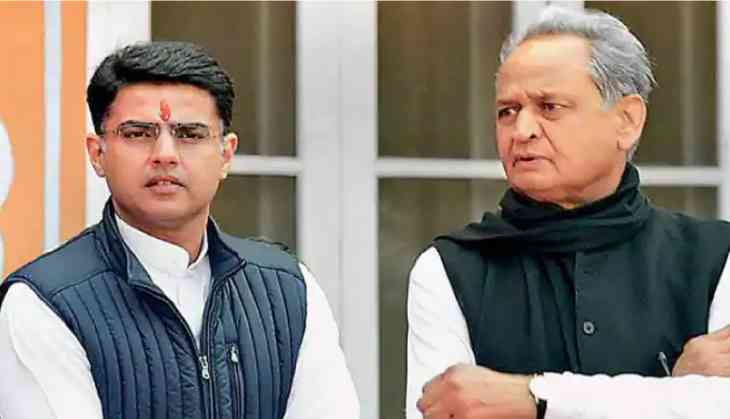 Former Rajasthan deputy Chief Minister Sachin Pilot on January 20 responded to Chief Minister Ashok Gehlot's purported viral clip likening him to coronavirus. Taking a jibe at Gehlot, Pilot said he has seen 'big people falling down' in politics.
"In politics, I have seen big people falling down," he said while quoting his father late Rajesh Pilot. He further stated that there is a need to listen to each other's thoughts with dignity.
"There is a need to understand each other's thoughts. If someone disagrees with an idea, listen to it with dignity. We can also protest, but the speciality of democracy is that even if there is a difference of opinions, we sit down and listen to each other," he said.
"Everyone's views should be heard, everyone has the right to express disagreement, whatever the disagreement, it should be dealt with an open mind," Pilot added.
Speaking to reporters on his way to attend the Jaipur Literature Festival on Friday, the former deputy chief minister said there is a need to listen to each other's thoughts with dignity.
Sachin's reaction came after the Rajasthn Chief Minister allegedly said that 'big corona' entered the party after the pandemic went viral. The clip is from a pre-budget meeting Gehlot had with the representatives of employees' union on Wednesday.
"I have started meeting…earlier corona came…a big corona also entered our party," Gehlot said.
Gehlot stated that that despite by-elections or Rajya Sabha polls, the government has brought excellent schemes with the support of employees.
The new row between both the Congress veterans came after Sachin Pilot on Monday targeted the Rajasthan Government over teacher paper leak issue.
In December last year, Congress leader Rahul Gandhi reacted on CM Gehlot and is bête noire Pilot power tussle by saying that differences in views was not an issue until it causes major damage.
"These statements (by leaders) are played up by the media but there is clarity in our structure and there is no confusion," Rahul Gandhi said.
"We are not a party of dictatorship, ours is not a fascist party. We are fine with some discussion. If there are differing views, there is no problem," he said.
This is not just about Rajasthan but in all states, it is like this and at the central level of the party also, it functions like that, Gandhi added.
"We tolerate this, but it should not result in any major damage. If that happens, we also take action. Generally, our ideology is that if our party people want to speak out we don't shut them up," the former Congress chief said.
Weather News: Rajasthan Weather: Light rainfall in some parts; check full forecast here
Notably, both Congress leaders have been locked in a power tussle since the grand old party formed the government in December 2018. Recently, Pilot supporters have again raised their voices to make him chief minister. Leaders loyal to him have openly called for him to be given the top job in the state ahead of the elections later this year.