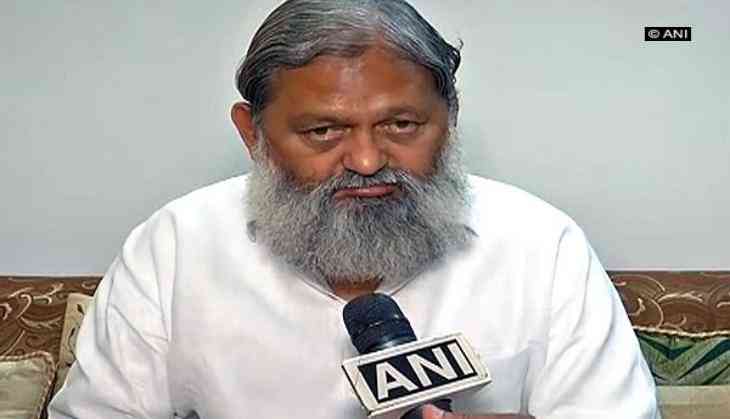 After the Supreme Court's decision to postpone the case of Ram Mandir issue to January 2019, the politicians across the country have sharply reacted towards the apex court, wherein Haryana Minister Anil Vij has said that it's the Supreme Court and they can do whatever they want.
Haryana Minister Anil Vij has claimed that the Supreme Court is the apex and can do anything in the matter. He said, "Supreme Court mahan hai, jo chahe vo kare."
Vij criticized the court for hearing terrorist Yakub Memon's plea at the midnight and has been delaying the Ram Mandir issue since last 8-9 years. He said, "Chahe Yakub Memon ke liye raat ke 12 bje SC ko khole, chahe jo Ram Mandir ka vishay hai jis par log tak-taki lagakar dekh rahe hain usko tareek par tareek mile."
"Our stand is clear and consistent, we want the union government to pass a law in Parliament for construction of a temple in Ayodhya, which is the birthplace of Lord Rama. It has been proven that it was the birthplace of Lord Rama, the government must bring a law or the Supreme Court should decide on it," said Arun Kumar, prachar pramukh of the RSS.
The Ram Mandir-Babri Masjid dispute has been at the center of politics by the Hindutva leaders since 1992 and creating a flare amongst the citizens as well. It has been a poll issue from a long period of time and the apex court has been delaying the hearing of the matter. The next hearing will happen in January 2019, just before the Lok Sabha elections.
Also read: CBI vs CBI: CBI officer AK Bassi, probing special director Rakesh Asthana, challenges transfer in SC;
Supreme Court mahan hai, jo chahe vo kare. Chahe Yakub Memon ke liye raat ke 12 bje SC ko khole, chahe jo Ram Mandir ka vishay hai jis par log tak-taki lagakar dekh rahe hain usko tareek par tareek mile. Yeh toh SC ki marzi hai: Haryana Minister Anil Vij pic.twitter.com/pNVp5ec6KI

— ANI (@ANI) October 30, 2018