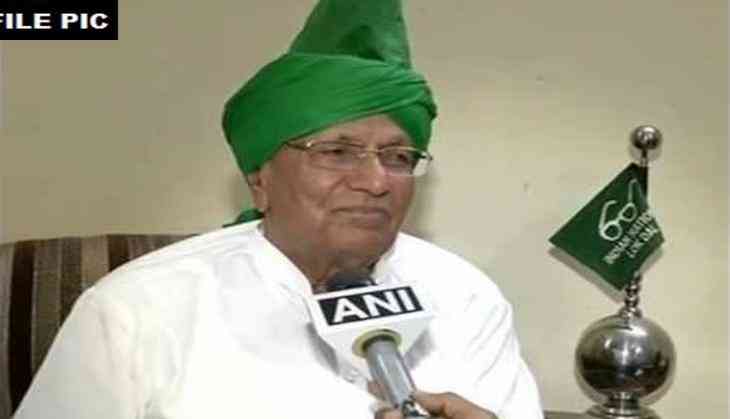 Former Haryana CM and chief of Indian National Lok Dal Om Prakash Chautala had dissolved the student wing of the party just before the student union polls in Haryana.
The student wing of the INLD- the Indian National Students Organisation was bound to contest the student union polls scheduled for October 17, but the sudden decision by the INLD supremo has sent shockwaves across the cadres and party workers.
Meanwhile, OP Chautala's grandson and INSO chief Digvijay Singh Chautala has refused to accept the decision taken by his grandfather on this particular matter.
Digvijay had announced on Thursday, "INSO will continue working till I get any signal from my father, Ajay Singh Chautala," and Ajay Chautala is the elder son of Om Prakash Chautala.
INLD issued a statement which said:
"Chaudhary Om Prakash Chautala, national president of INLD, has dissolved the youth wing of INLD and the national and state units of INSO. Both wings of the party were found to be lacking in discipline and commitment to the ideals of the party. While the youth wing failed to play its role during the Gohana rally of October 8, INSO was found indulging in blatant anti-party activities. It is also accused of entering into a conspiracy with anti-party forces to disrupt the above said rally and smear the name of INLD."
Both Om Prakash Chautala and Ajay Singh Chautala are serving a 10-year sentence at Tihar jail on corruption charges in the infamous Teacher's Recruitment scam.
Also read: AMU suspends 3 students for trying to offer funeral prayers after Hizbul terrorist Mann Wani's death