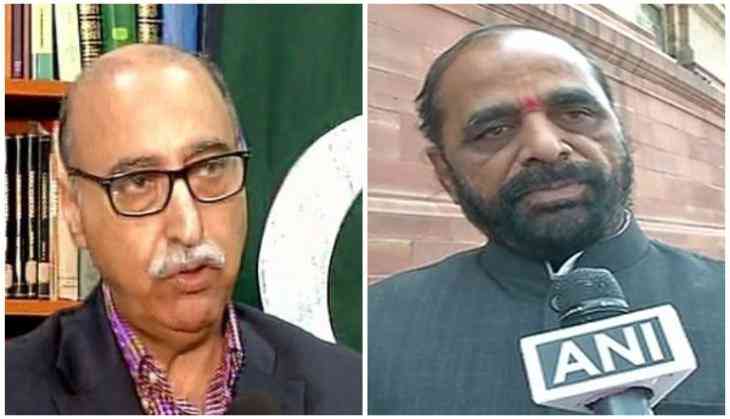 A day after the outgoing Pakistan High Commissioner to India Abdul Basit stated that alleged Indian spy Kulbhushan Jadhav had provided a lot of useful information leading to the busting of several sleeper cells, Minister of State for Home Affairs Hansraj Ahir on Wednesday downplayed the former's claim saying Islamabad's charges are baseless.
Speaking to ANI, Ahir said, "I will not give importance to anyone's comment; India never arrested anyone without proper investigation like what Pakistan has done with Kulbhushan Jadhav. The charges which Islamabad Army has put on him are without proper facts. That is why National Investigation Agency (NIA) had to take action with complete base and structure. Our stand for Jadhav is right and we will give him justice too."
Further assuring India's support towards Jadhav, Ahir stated that the Centre is working towards his freedom.
"We do not have to listen to them (Pakistan) always. We have been doing that since ages; now it's time to take a stand. We know and believe that Jadhav is innocent and the world also believes that too. We are working towards his freedom as a prisoner," he said.
Yesterday, Abdul Basit informed that since Jadhav's arrest, he has provided a lot of useful information leading to the busting of several sleeper cells.
Speaking to ANI, Basit said, "There is a process involved and currently his (Kulbhushan's) mercy petition is pending with Army Chief. A decision has to be taken in this matter. It's not an ordinary case; and we will wait to see how law takes its course with time. My Indian friends need to understand that Kulbhushan is not ordinary citizen of India; he was convicted for espionage and subversive activity so the charge is very serious".
Basit further informed that a mercy petition has been filed and the Army court will take a decision on it soon.
"He (Jadhav) had also provided Pakistani authorities a lot of information. Since his arrest, we have arrested hundred operatives in Pakistan and busted several sleeper cells," he said.
The Pakistan government had earlier accepted the request of Abdul Basit to resign from the foreign service after he was passed over for the post of foreign secretary earlier this year.
Basit was to retire in April 2018, but he opted for an early retirement and sent his resignation letter to former Pakistan prime minister Nawaz Sharif.
India-Pakistan relations have been strained ever since death sentence was awarded to former Indian Naval officer Jadhav.
India even moved the International Court of Justice (ICJ) to seek justice for Jadhav that stayed the death sentence till its final decision.
When asked about the future of the downhill relations, the outgoing envoy said, "Never give up. Keep trying; things will get better."
Jadhav was sentenced to death on April 10 this year after being accused of espionage and working for the India's external intelligence agency, Research and Analysis Wing (R&AW). He was arrested from Balochistan on March 3 last year.
-ANI