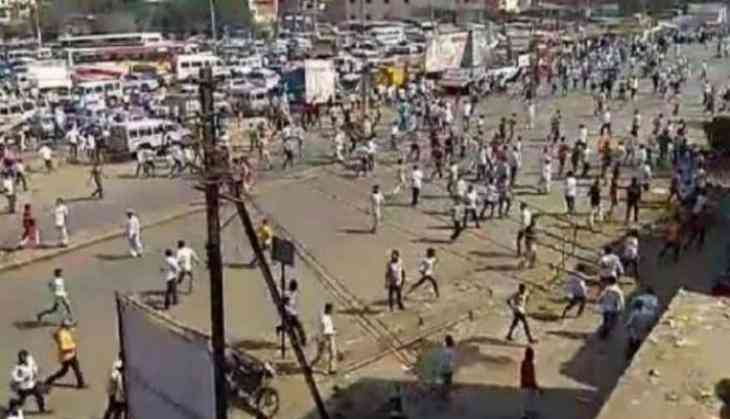 In Gujarat, UP, Bihar and Madhya Pradesh migrants are been allegedly thrashed and benefited from their houses in the middle of the night. The landlords of the houses are dragging them out of the houses 342 people arrested till now from Gandhinagar, Ahmedabad, Sabarkantha, Patan and Mehsana districts for targeting the people of UP and Bihar in a protest against the rape of the 14-months-old baby girl.
Gujarat Police said that people who speak Hindi in Ahmedabad and its surrounding districts are leaving the state. They have been living in Gujarat for years. They are from Uttar Pradesh, Madhya Pradesh and Bihar, who are leaving the fearing for their life.
17 company & 1 platoon of State Reserve Police (SRP) deployed in the affected districts. 42 cases registered; 342 people arrested till now. Probe underway: DGP Shivanand Jha on security arrangements in #Gujarat following incidents of violence after a rape case in Sabarkantha. pic.twitter.com/vizqQjEpjd

— ANI (@ANI) October 7, 2018
Last week, a 14-months-old girl was raped in Gujarat by a man who hails from Bihar, after which the crowd started attacking non-Gujaratis. Some migrants who were waiting for the bus under the Chanakyapuri flyover of Ahmedabad, have expressed their pain, said that many homeowners had asked them to vacate the house.
According to the reports of the Indian Express, Rajkumari Jatav of Bhind in Madhya Pradesh, who was waiting for the bus, told that the crowd attacked when the kids were playing outside on the street. They told that they are still in shock. She took his four-year-old child to the doctor so that he could calm down.
"The three children of the Rajkumari and her husband live in the colony of Mahadev Nagar, the migrants located in Chandlodiya area of Ahmedabad. She told that many of his neighbours are also leaving the state. Many have already gone."
Also read: Gujarat Violence: UP, Bihar migrant workers leave Gujarat after protest broke over rape of 14-months-old baby girl