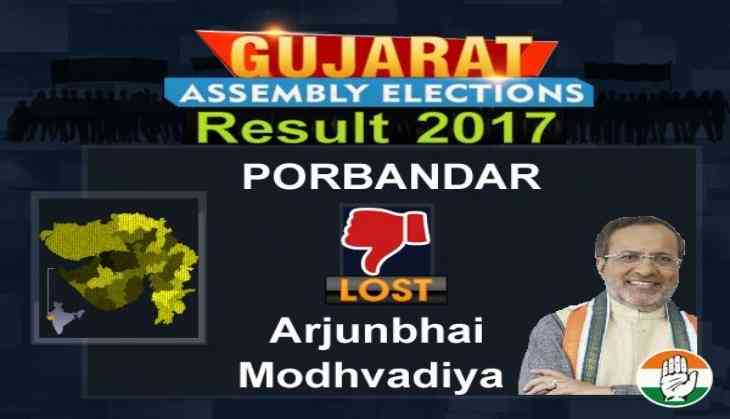 Senior Congress leader and one of the most prominent faces of the party in Gujarat, Arjun Modhwadiya has lost to Bharatiya Janata Party's (BJP) Babubhai Bokhiriya by 1,855 votes on the Porbandar seat.
The BJP looks comfortably placed to form the government in Gujarat - for the sixth time - even as the early trends showed Congress giving a tough fight to it.
The Porbandar constituency, one of the most politically-crucial constituencies in the state, has a total voter strength of 2,37,843, including 1,23,171 males and 1,14,670 females. The dominant caste with the most political clout is Mer - goading the BJP and Congress to select their candidates from this Kshatriya sub-caste.
This assembly seat represents the following segments Porbandar Taluka (Part) Villages - Bhetkadi, Advana, Simar, Rojhivada, Ishvariya, Bhomiyavadar, Sodhana, Shingda, Sisli, Miyani - Bhavpara, Vadala, Ambarama, Fatana, Majivana,Kunvadar, Morana, Paravada, Nagka, Bavalvav, Natvarnagar, Khambhodar, Kindar Kheda, Modhvada, Sakhpur, Tukda Miyani, Visavada, Palkhada, Keshav, Bagvadar, Vachhoda, Khistri, Vinjhrana, Godhana, Sinhjhar Nes, Katvana, Beran, Bharvada, Baradiya, Ratdi, Kantela, Shrinagar, Rinavada, Simani, Bakharla, Boricha, Pandavadar, Degam, Kuchhdi, Zaver, Kolikhada, Bokhira, Porbandar (M), Khapat, Chhaya (M).
The BJP has taken an unassailable lead in the state as, at the time of filing this report, the party is ahead on 105 seats, while Congress is on 69.
The assembly polls in Gujarat was a battle of honour and prestige for the BJP and Congress and they, hence, left no stone unturned to establish their own supremacy in the states.
The counting of votes for 182 constituencies in Gujarat began this morning.
The elections were held in two phases in Gujarat on 9 and 14 December.
-ANI