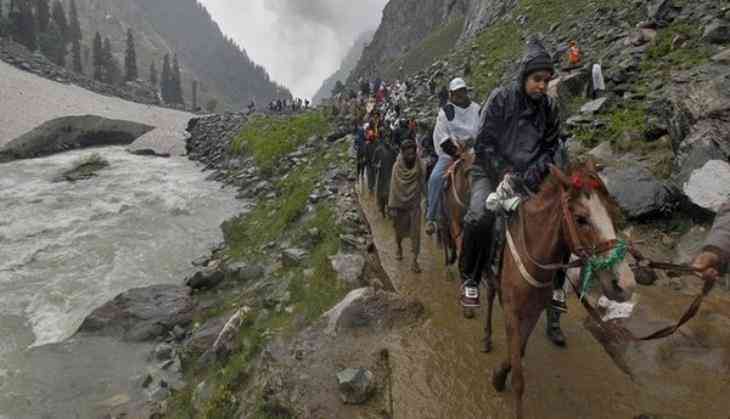 Govt to Amarnath pilgrims: Follow safety protocol
The Centre on Tuesday appealed to all pilgrims undertaking the pilgrimage to the Amarnath cave shrine to follow existing safety protocols and to cooperate with the administration.
Union Minister for Information and Broadcasting M. Venkaiah Naidu said he was confident that the state government and central security forces are making all arrangements for the safety and security of the pilgrims.
"The information that is available is that that the bus was not registered with the shrine board, nor was there any security with the bus. However, the administration is probing the matter and something can be said once the final report comes," Naidu said.
"I hope the pilgrims will cooperate by giving advance intimation, information and also follow the protocol of security so that they are all secured," he added.
Naidu condemned Monday night's dastardly strike on pilgrims in the strongest words and conveyed his condolences to the bereaved families.
"I feel sad about the dastardly act of terrorists killing the Amarnath Yatra pilgrims. It is an act against humanity. It brings a bad name to the state of Kashmir and nobody can approve such heinous crimes against pilgrims. No religion accepts this. Terrorists, as we say, have no religion. I condemn the incident and condole the death of the pilgrims and convey my heartfelt sympathies to the bereaved families."
Meanwhile, Union Home Minister Rajnath Singh will chair a high-level security review meeting at his residence in Delhi in the regard.
Jammu and Kashmir Governor N.N. Vohra has also called a meeting over the same.
Yesterday, the Union Home Minister had spoken to Governor Vohra and Jammu and Kashmir Chief Minister Mehbooba Mufti and assured full assistance to the injured.
The Home Minister also spoke to the Director General of Jammu and Kashmir Police. Yesterday, a group of terrorists opened fire at a bus carrying pilgrims in the Anantnag district.
The incident occurred at 8.20 p.m., when the bus, carrying 17 pilgrims from Baltal to Mir Bazar, became the victim of the terror attack.
Reportedly, the bus was neither a part of a convoy nor registered with the shrine board. The death toll in the terror attack has risen to seven and as many as 15 have been injured.
President Pranab Mukherjee and Prime Minister Narendra Modi have condemned the attack in the strongest terms.
-ANI