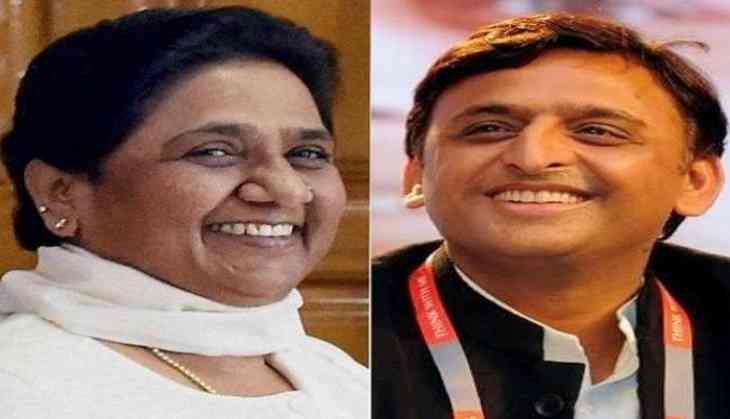 The political equations in Uttar Pradesh are changing rapidly. According to sources, the Samajwadi Party (SP) and the Bahujan Samaj Party (BSP) could join hand in the Lok Sabha by-elections in UP. There have been many discussion between the two party leaders. On Saturday, there was a meeting between BSP's Zonal Correspondent and SP leaders of Gorakhpur and Phulpur, in which BSP will announce the support of SP in the by-election.
In the three North East states on Saturday, the success of BJP in the political life of the country has created an uproar. Assessing this, the political parties have begun to formulate their own strategies. In order to give a saffron party a saffron party, BSP and SP are ready to embrace each other and forget about mutual enmity.
The coalition between the Akhilesh Yadav (SP) and Mayawati's party (BSP) will be at local level. In Lok Sabha bypoll Bahujan Samaj Party (BSP) will support the Samajwadi Party (SP) candidates in the by-election by the Gorakhpur and Phulpur parliamentary seats.
It is being told that Mayawati took feedback from her party leaders about the by-election of these two seats. In this regard, she also talked with Zonal Coordinator of both the Lok Sabha constituencies.
Where in Gorakhpur and Phulpur Lok Sabha seats the Samajwadi Party candidates are in the fray. The BSP has decided not to contest the by-election.
The Gorakhpur seat was vacant after the resignation of the CM Yogi from the post of MP and Phulpur seat after the resignation then Deputy CM Keshav Prasad Maurya, MP from Phulpur.
Also read: BJP's victory doesn't mean Rahul Gandhi's 'failure' in north-east, says Farooq Abdullah