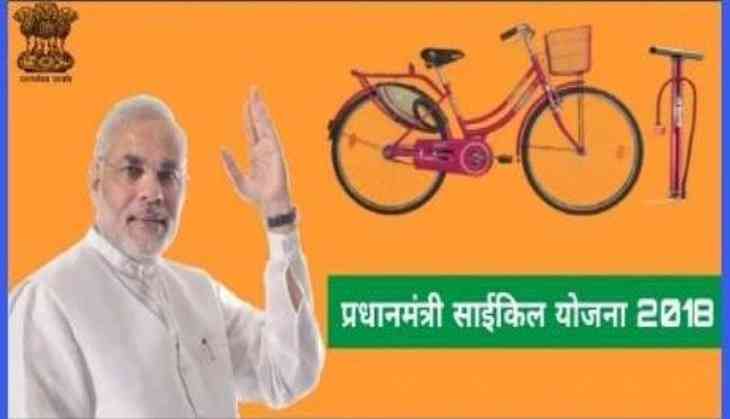 People are always wanted to know the government policies that can provide them with exciting things and if it is free that it will be a cherry on the cake for them. On social media, netizens seem to be super excited as there is a message is getting viral in which it has been said that Modi government will be going to distribute free cycle and helmet on this 15th August 2018.
As per the message, PM Modi will distribute cycle and helmet under the scheme of Pradhan Mantri Gram Sadak Yojana. Earlier, the message has also become viral in which it was talking about the free laptop and smartphones.
If you have not seen the message then have a look at the screenshot of the message given below: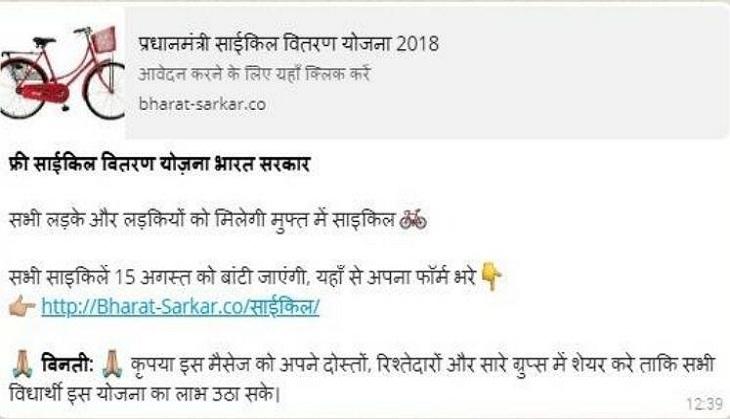 Well, the message about free things always gives the immense pleasure to anyone. The same social media users are happy with this news that they are going to get a bicycle and helmet without spending any single money. But the question raised here is that PM Modi, in reality, going to give free cycle and helmets? Meanwhile, when you open the given link for this offer then a page will open in which along with PM Modi picture, there is also a detail about the government policy.
#Helmet की अपार सफलता के बाद पेश है "फ्री साइकिल वितरण योजना" 😂😂 pic.twitter.com/IfdpKEdP7g

— Narendra Dammy (@nkdammy) July 22, 2018
As per the reports, after the investigation about the message, it is also found that the message which is spreading through WhatsApp, Facebook and Twitter also reads that the free helmet and cycle will be distributed in the nearby government schools on this Independence Day. In the viral message, it has also been asked that share this message with your friends, family members and in other groups so that students can avail the benefit of it.
According to the reports of Aaj Tak, it has been found in the investigation, that the websites have been registered with GoDaddy.com. After open the link http://helmet.pm-yojna, the name that has been registered for the free helmet was surprising. The name was 'Modi Government Corporation' and the registered address was Punjab. While on the other clicking the other link http://bharat-sarkar.co, on which the free cycle scheme message has been viral, contained no name in the registration but there was only address given i.e. Arizona, United States. Besides this, no other information has been given about the link. It means the message that has been spread on social media is fake.
Therefore, it is clear that no one will get free cycle and helmet. Even after trying so hard by the government that fake messages can be stopped but it seems like government have to take some serious steps against such persons who spread such messages.
However, after knowing about the policy that it is fake then Twitterati filled with anger about fake messages.
Here's how Tweeple reacted:
गज़ब जागरूकता है हमारे समाज में।
लाख मना करने के बावजूद भी दनादन ऐसे msg फॉरवर्ड किये जा रहे हैं।

— Narendra Dammy (@nkdammy) July 22, 2018
स्टॉक सीमित होने की वजह से ऑर्डर ब्लैक लोड ले रहा 😋😋

— Krishnendra Rai (@rsi_kr) July 18, 2018
We all advise that don't spread any fake news.
What's your take on this news? Comment.
Also read: Bengal: Shocking! Four women beaten, stripped on suspicion of being child lifters