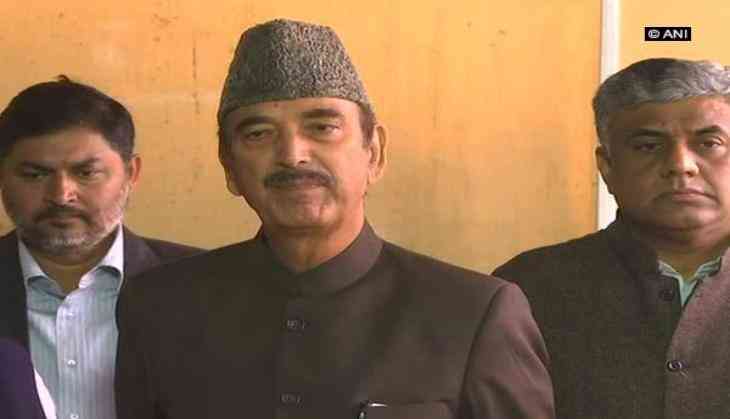 Senior Congress leader and Leader of Opposition Ghulam Nabi Azad on 20 December lashed out at Prime Minister Narendra Modi for insinuating that former vice-president Hamid Ansari and former Prime Minister Manmohan Singh were colluding with Pakistan to defeat the Bharatiya Janata Party in the Gujarat elections.
While briefing the media here, Azad said, "We respect our Prime Minister Modi ji, he should have the courage to say the same thing in the House also. If Prime Minister Modi finds it difficult to apologise, then he should say that he did it to win Gujarat elections and say that I take my words back now".
Yesterday, the Congress party demanded a clarification from Prime Minister Modi. Following that, the leader of Opposition in Rajya Sabha, Azad, said, "Manmohan Singh ji's integrity and loyalty to the country have been questioned. The prime minister should come in the House and make it clear."
Amid the Congress' uproar in the Rajya Sabha, Union Finance Minister and Leader of the House Arun Jaitley said, "We will certainly invite all my colleagues, including leader of the opposition and try and discuss, find a solution to the issue."
The Congress party wanted a discussion on the issue under rule number 267 of Rajya Sabha's rule book, but Chairman M Venkaiah Naidu rejected all the notices.
During a poll campaign in Gujarat, Prime Minister claimed that Manmohan Singh and Ansari had attended a secret meeting at Congress leader Mani Shankar Aiyar's house in Delhi, in which Pakistani envoy and foreign minister of the neighbouring country also participated.
The Prime Minister said the former director general of the Pakistan Army, Arshad Rafiq, had insisted that Congress leader Ahmed Patel should be made the chief minister of Gujarat.
"The meeting had run for three hours and the next day, Aiyar called me "Neech" (low-born)," the Prime Minister said.
-ANI