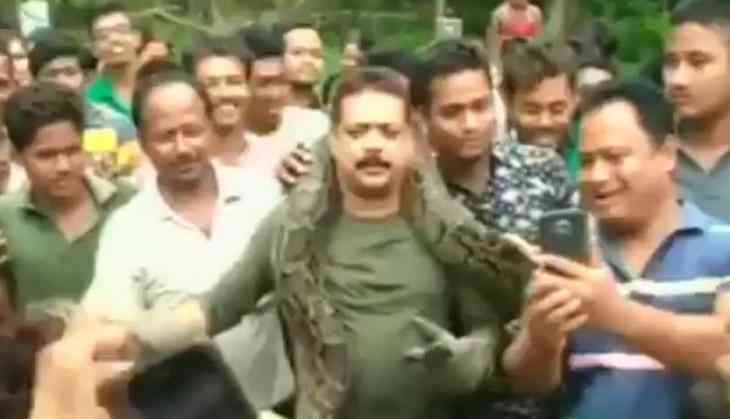 West Bengal forest range officer Sanjoy Dutta had a narrow escape after a python he rescude from the village was also on to strangle him to death. Dutta is a Range Officer of West Bengal's Baikunthapur forest in Jalpaiguri. Sonjoy was posing for a selfies with the the locals after rescuing the python from the village.
A video shows, in a daring act, he rescued the 18-feet python. However, when he was taking selfies with locals, with the python held in both his hands, the python strangled him.
He was released by the locals.
Watch Video:
#WATCH Narrow escape for Sanjoy Dutta, Range Officer of Baikunthapur Forest in Jalpaiguri after a python he rescued from a village almost strangled him to death while he was posing for selfies with locals. #WestBengal pic.twitter.com/KroJHOCOkk

— ANI (@ANI) June 18, 2018
Pythons are constrictors -- they don't kill by injecting venom into their prey (like cobras), but by squeezing the life out of them. And the one Dutta was carrying began to squirm and coil menacingly. But others hurried to help Dutta unwind the reptile. He survived.
Interestingly, posing with a snake or putting it around the neck and performing other stunts amounts to cruelty, and is an offence under the Wildlife Protection Act, 1972.
On June 15, a woman in Indonesia was swallowed by a python.
The lesson: If you're trekking in the forest and see a python, do not think, "Selfie time!"
Also read: AAP vs Centre: Arvind Kejriwal holds Dharna at LG's house; Delhi HC says, 'can't hold strike in someone's residence'