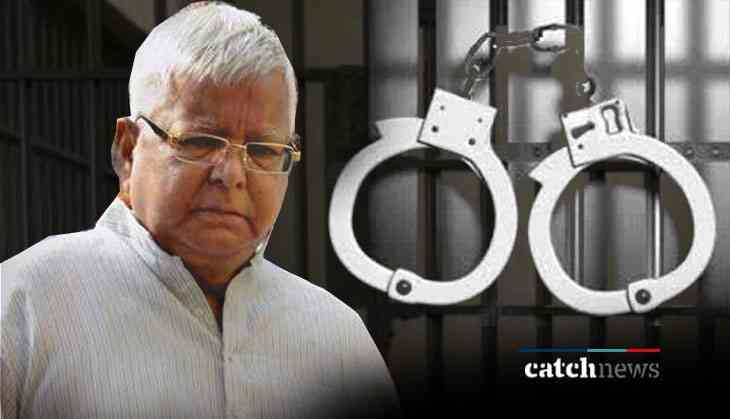 In yet major development in fodder scam case that Rashtriya Janata Dal (RJD) chief Lalu Prasad Yadav has surrendered today before the special CBI court in Ranchi today (30th August 2018). He has surrendered after the Jharkhand High Court cancelled his provisional bail in this week.
According to the reports, 'I am following the court's order. I am unwell but I am still surrendering,' Lalu Yadav told to reporters outside the court where he surrendered.
The former Bihar Chief Minister has been convicted in four cases of the multi-crore rupees scam case. He has granted bail in May this year because of his illness.
However, the high court has ordered him to surrender by 30th August. Lalu's doctors from Mumbai will do his medical checkup and inform the court about his condition, his lawyer told ANI
Doctors of Asian Heart Institute (Mumbai) will do a check up of Lalu Prasad Yadav and then inform Court about his condition: Prabhat Kumar, Yadav's Lawyer after Yadav surrendered before Court earlier today. pic.twitter.com/Ob3enmpHCL

— ANI (@ANI) August 30, 2018
After surrendering before the Judge S S Prasad, RJD chief's advocate Prabhat Kumar also said that Lalu had been suffering from various ailments.
At this, the judge directed doctors of the Birsa Munda Jail to consult doctors who were treating the former chief minister.
The judge also said that Lalu Prasad could also undergo treatment by doctor Umesh Prasad at the Rajendra Institute of Medical Science (RIMS) here.
He was released on six weeks' provisional bail on May 11 by the Jharkhand High Court for medical treatment and was restrained from taking part in any public function, political activity or issuing statements to the media during the period.
The high court had extended the period of Prasad's bail till August 27 and had refused to extend it further. He was ordered to surrender by August 30
-With PTI inputs
Watch Video:
Also read: