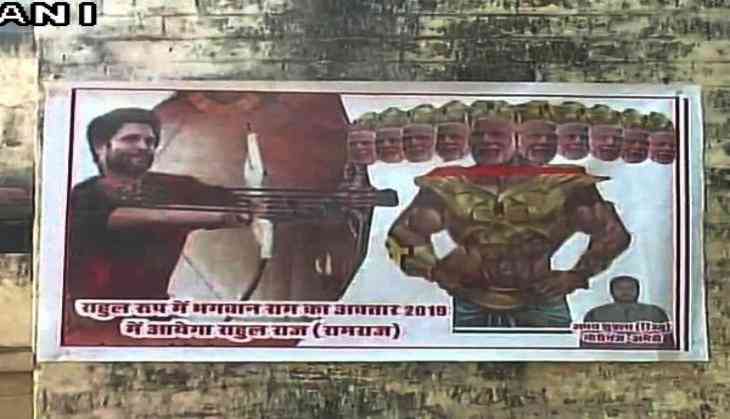 An FIR has been lodged against Congress leader Rama Shankar Shukla for a poster which appeared in Uttar Pradesh's Amethi district, portraying Congress President Rahul Gandhi as Lord Rama and Prime Minister Narendra Modi as Ravana.
The FIR has been lodge against Shukla by Bharatiya Janata Party (BJP) leader Surya Prakash Tiwari.
The poster was witnessed at the Gauriganj railway station on December 14, a day before Rahul's visit to the city.
In the poster Rahul was seen carrying a bow and an arrow, pointing towards Prime Minister Modi.
The inscription on the poster states Rahul an incarnation of Lord Ram who will bring 'Ram Rajya' in 2019 by winning the General election and defeating 'Ravan' Prime Minister Modi.
"Rahul ke roop mein bhagwan Ram ka Avtaar 2019 mein aayega Rahulraj (Ramrajya)" read the wording on the poster.
The poster is said to be displayed by a local named Abhay Shukla, who claims to have no connection with the Congress party.
"Prime Minister Modi promised us to bring black money back that is stashed abroad, but nothing happened. All the promises made by him were lies. We believe that in 2019, Rahul Gandhi will become the Prime Minister of the county and fulfill all the promises," Shukla said.
The district Congress party denied putting up the poster or any link with Shukla.
Rahul is the Member of Parliament (MP) from Amethi, which is the pocket borough constituency of the Congress party.
-ANI