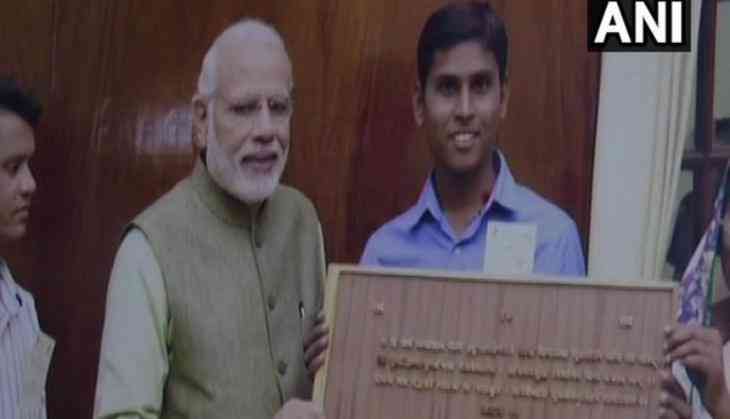 Even after PM Modi's recommendation Kanpur carpenter denied loan
Sandeep Soni, a carpenter from Kanpur's Uttar Pradesh, who in 2016 had sought Prime Minister Narendra Modi's intervention in helping him get a loan, on Saturday cried foul and said despite the Prime Minister's recommendation the bank hasn't granted him the desired loan.
Soni, a resident of Barra area here, had inscribed all the 18 episodes and 706 shlokas of Bhagwad Gita on wood and gifted the same to Prime Minister Modi.
He claims he had shown his work to Prime Minister Modi, who had then personally recommended him to officials for a loan under Prime Minister Employment Generation Programme (PMEGP) to start a factory.
The 32-year old carpenter has yet again written a letter to the Prime Minister complaining that he is unable to do business, because of the way bank employees are troubling him. And that he has been running from pillar to post for more than a year to get the loan.
"They (Bank of Baroda) said that take Rs 10 lakhs and start your work and didn't give me the Rs 25 lakh", said Soni while talking to ANI.
Soni, was encouraged to start a business by the Prime Minister himself, after the latter got heavily impressed by the gift which the carpenter from Kanpur presented him on March 08, 2016.
"It's been over an year my work is stuck due to monetary constraints, my project was of Rs 25 lakhs and bank gave me Rs 10 lakh only, and every other day they (bank) inform me about several rules," added Soni.
Soni further said that he is hopeful that the Prime Minister will address his woes and take strict against the defaulters.
-ANI