Emotional moment: President Ram Nath Kovind gets emotional when martyr JP Nirala's wife receives Ashok Chakra
Late Air Force Commando Jyoti Prakash Nirala was honoured with Ashok Chakra on 26th January and commando's wife received that honour from the president. During this time, one emotional moment captured in cameras. While honour was happening commando's wife and mother was presented at the stage, while receiving the honour JP Nirala's wife got emotional.
While martyr commando's wife was getting emotional that time many saw the president of India, Ram Nath Kovind got emotional also. After honouring the JP Niralas wife when the president went back to his seat then he was seen cleaning his tears from his handkerchief. That moment was surely emotional and whoever was captured on the television that time was mostly seen emotional.
Also Read - Republic Day 2018: Do you remember? These Chief Guests were invited in the last decade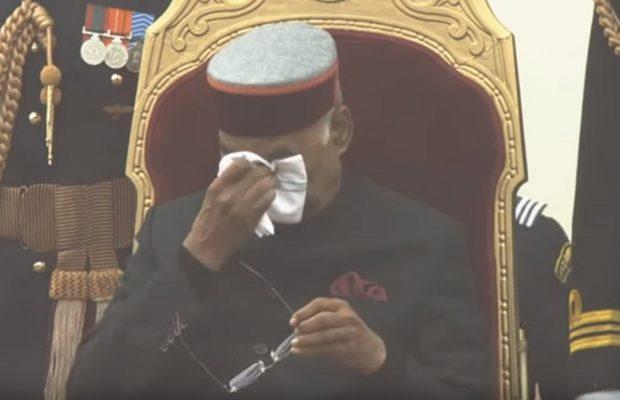 President Ram Nath Kovind got emotional
This is to notice Jyoti Prakash Nirala, a resident of Badladih area in Bihar's Rohtas district, was killed during an encounter with terrorists in Jammu and Kashmir's Bandipora in November last year.
Also Read - ASEAN can be integral part of New India's transformation: PM Modi
Jyoti Prakash Nirala honored with Ashok Chakra
In that encounter, Jyoti Prakash Nirala gave a tough fight to the terrorists and he stopped them to attack the base camps while the army was not presented there. The bravery story of JP Nirala will never be forgotten in the history of India.