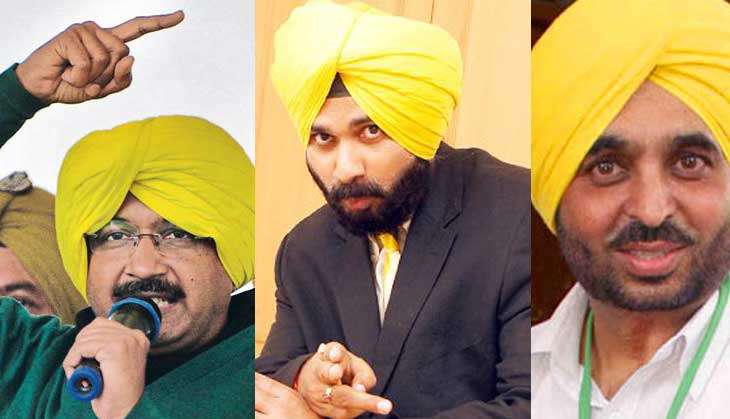 After officially disassociating himself from Bharatiya Janata Party, Navjot Singh Sidhu today kept everyone guessing whether he will join the Aam Aadmi Party or not. At a press conference when asked about his future plans, Sidhu's answer was an ambiguous, "Jahan Punjab ki bhalayi hogi, wahan Sidhu ko khara payenge (You will find me standing where there is Punjab's welfare.)"
However, AAP leaders who have been very upbeat about the prospect of Sidhu joining the party said although he didn't name any party, he gave enough hints about his intentions of joining AAP. AAP Punjab leader Sukhpal Singh Khaira told a news channel: "If you saw the colour of his turban, there is enough evidence about which party he is joining." Indeed, Sidhu sported AAP's trademark yellow turban.
Jahan Punjab ka hitt hoga, Sidhu ko khadaa paoge: Navjot Singh Sidhu pic.twitter.com/3gbf0WUYsn

— ANI (@ANI_news) July 25, 2016
However, it is still not clear why he chose not to endorse AAP in the press conference. He was also silent about his wife Navjot Kaur continuing to remain in BJP while openly criticising both BJP and the ruling Shiromani Akali Dal party in the state. He also refrained from commenting on clearing the air on whether he has quit BJP or not.
This after Punjab BJP chief Vijay Sampla said Sidhu was still a part of the party. "Navjot Singh Sidhu is still in the BJP. Therefore the question of his return to the party does not arise. He is still in BJP and he has not resigned from the membership of BJP," Sampla, who is a minister of state in Modi government, told reporters in Chandigarh.
AAP convener and Delhi Chief Minister Arvind Kejriwal had praised Sidhu on more than one occasion. During a recent book launch, Kejriwal said, "He (Sidhu) has just resigned from the Rajya Sabha. He is a good person. All good people should resign from the Bharatiya Janata Party. However, if anybody who wants to join the AAP, s/he has to become an 'aam aadmi' (common man) first."
He added that there was no talk of making Sidhu the party's chief ministerial candidate.
What is however interesting is the fact that when a week ago Sidhu resigned as BJP's Rajya Sabha MP, his wikipedia page indicated that he is an AAP member. However, later it was again changed to Bharatiya Janata Party.
Read More:
I resigned from Rajya Sabha as BJP asked me to stay away from Punjab: Navjot Singh Sidhu
Conditions apply: Has Sidhu made 3 demands to AAP for joining the party?
With inputs from PTI