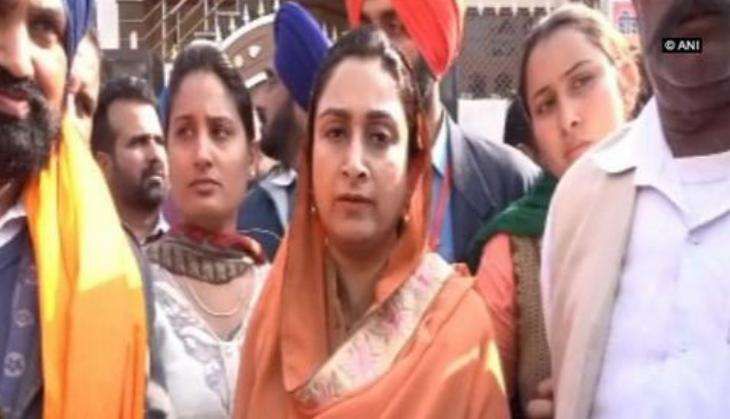 Union Minister and Shiromani Akali Dal (SAD) leader Harsimrat Kaur Badal on Thursday alleged that Arvind Kejriwal-led Aam Aadmi Party (AAP), which is keen on ruining the prosperous state of Punjab, stands exposed and said that the people will take revenge for the sham committed by them.
Addressing the media here, Harsimrat accused the Delhi Chief Minister and AAP supremo of making desperate attempts to establish his presence in Punjab politics.
"Initially, they used to say that the deputy chief minister would be a Dalit, but it was just a stunt to siphon Dalit votes. Then he said that Navjot Singh will be the deputy CM, but he left as he wanted to be the chief minister," she said.
Harsimrat said Delhi Deputy Chief Minister Manish Sisodia's assertion that people of the state should cast their votes on 4 February "assuming that Kejriwal will be the Chief Minister of Punjab" has unmasked the AAP supremo's intentions.
The Union Minister also alleged that Kejriwal, who is a Haryanvi, wants Punjab to lose its water by supplying the same to Haryana and Delhi.
"We fought with Haryana for our water to an extent that situation in Punjab became very volatile at a point. We have spent our entire lives serving Punjab and resolving such issues and helping it grow, but this Kejriwal wants to rake all these issues again and ruin Punjab," said Harsimrat.
"They way Kejriwal has befooled the people of Delhi by making false promises, the people there are looking for chances to avenge the fraud committed by him. Whenever Kejriwal comes out in public, either someone hurls a shoe at him, spills ink on him or slaps him. And it is saddening to see that such a guy is wanting to enter Punjab politics," she added.
The Union Minister further said Punjab will respond to Kejriwal in the same way as Prime Minister Narendra Modi gave a befitting reply to Pakistan.
Meanwhile, Harsimrat showered praise on Chief Minister Parkash Singh Badal for his dedicated efforts in developing Punjab and in maintaining peace and brotherhood in the state.
"This man (Kejriwal) wants to spoil it all. He should know if the Akalis rise against him, he will have no place to go," she said.
Punjab will go for polls in a single-phase on 4 February. The date of notification is 11 January, the last date of nomination is 18 January, the scrutiny of nomination will take place on 19 January and the withdrawal of candidature will take place on 21 January.
The term of the legislative assembly of Punjab will expire on 18 March.
-ANI