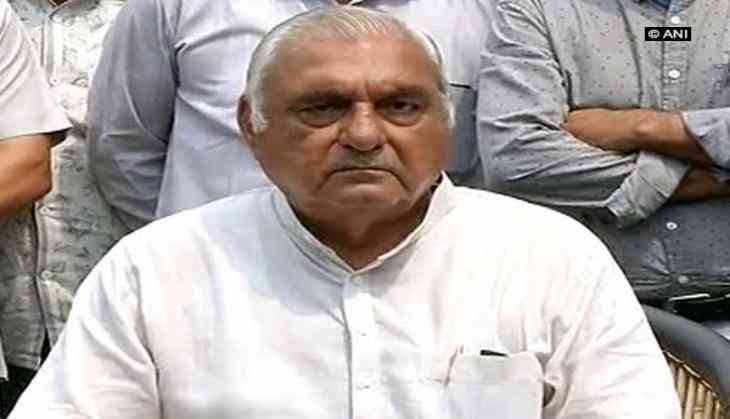 Former Harayana chief minister Bhupinder Singh Hooda, on 26 Auhgust has said that the violence that erupted in Haryana after the Dera Sacha Sauda (DSS) Chief Ram Rahim Singh's verdict, could have been avoided and asked the State Government to resign.
Addressing the media, Hooda said that he has never seen such kind of ruckus in a government and asked the BJP-led Haryana Government to resign on "moral grounds".
B.P. Hooda further said, "If they don't resign then the Centre must impose President's Rule here."
Hooda also said that whatever happened in the past 2-3 days is said and could have been avoided if the government would have been more alert.
"This has happened earlier as well, first during the time of Jat aarakshan, then the Rampal Baba incident and now this incident clearly shows the incompetence of this government and proved it to be a failure," former Haryana Chief Minister Hooda said.
Hooda also said that people have lost faith from this government, adding, "There is no law and order in the state. It feels like that there is no government in Haryana."
On the High Court's comment that everybody let Panchkula burn for political gains, Hooda said, "When the High Court says this, then it really shows the failure of this government," and that the government should collectively resign.
He also said that people are scared and there is a panic like situation in the state.
Not blaming the Rahim's supporters for the ruckus, Congress leader said it is all to be blamed to on the state government and kept emphasizing on the fact that the Government should resign and President's rule be implemented in the state.
"The people of Haryana will not give clean chit to this government and if they really want to check then they can have elections," Hooda said.
Following are other updates related to the case:
-District administration and police sealed two ashrams of Dera Sacha Sauda in Haryana's Kurukshetra.
- Curfew has been imposed in Sangrur, Moga and Patiala district of Punjab. Security stepped up after violent protests by Dera followers in the state.
- Section 144 imposed in Uttarakhand's Nainital and Noida, Ghaziabad and Meerut district of Uttar Pradesh.
- Baghpat District Magistrate directs all schools in the region to remain closed today in Uttar Pradesh. Schools in Noida and Ghaziabad will also remain close today.
- Delhi Transport Corporation has suspended bus services to NCR due to incidents of arson.
- Prime Minister Narendra Modi urged officials to work round the clock to restore normalcy and provide all possible assistance that is required. He assured to restore normalcy in violence-hit areas.
- Instances of violence are deeply distressing. Strongly condemn violence urge everyone to maintain peace, Prime Minister Modi tweeted.
- Haryana Chief Minister Manohar Lal Khattar said the state government had made complete arrangements; but the mob was really huge.
- Madhur Verma of Delhi Police confirmed that Dera Sacha Sauda followers tried to create mischief, following which a case has been registered. The police have recovered the CCTV footage, probe is underway.
- Chandigarh DGP Tejinder Singh Luthra confirmed that taking preventive measures, Chandigarh Police detains 81 people.
- Six private commandos of Ram Rahim Singh arrested by Chandigarh Police, weapons and petrol cans seized from them.
- 28 people have lost their lives, and 200 are injured. Haryana Chief Minister Manohar Lal Khattar directed doctors for best possible treatment.
- Passengers have been stranded at Bathinda railway station due to curfew imposed in Punjab.
-ANI