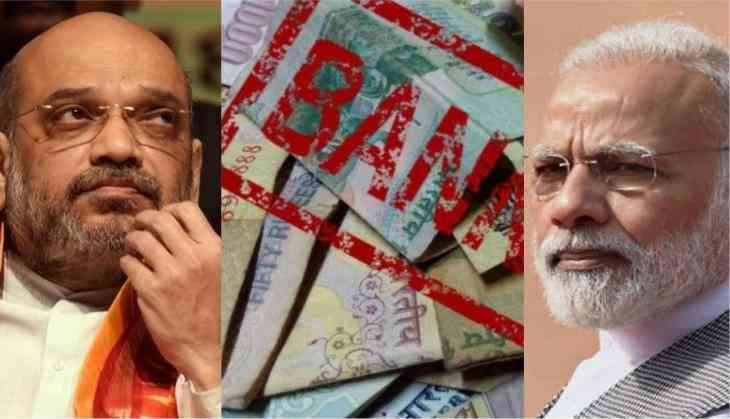 Randeep Surjewala, Congress national spokesperson and close aide of party chief Rahul Gandhi, has made a big attack on the ruling party BJP. These attacks have been carried out after the disclosure of an RTI over the note-ban. During the note-ban, the oldest notes were deposited in the Ahmedabad Co-operative Bank. Amit Shah, the National President of BJP, is the bank's director.
Randeep Surjevawa said that there has been a big scandal during demonetisation. Its evidence is coming out through RTI reports. During note-ban, notes of Rs 500 and 1000 have been deposited during the note-ban in the co-operative banks of the country. In that Ahmedabad district cooperative bank got around 745 crore rupees in the first five days. The names of many BJP leaders are also coming connected to the bank. These are leaders who are close to Amit Shah.
LIVE: Press briefing by AICC Communications incharge @rssurjewala. https://t.co/ik3vy1fetU

— Congress Live (@INCIndiaLive) June 22, 2018
Randeep Surjewala said that these data were received by NABARD through Right to Information (RTI). Of the 374 co-operative banks in the country, why was such a huge amount were deposited in the bank, whose director was Amit Shah? Will Prime Minister Narendra Modi of the country take any action against Amit Shah, who took the advantage of the ban on black money?
These data were provided by NABARD through an RTI. Will PM Modi take an action against @AmitShah for facilitating to turn black money into white through cooperative banks?: @rssurjewala #ShahZyadaKhaGaya

— Congress Live (@INCIndiaLive) June 22, 2018
The Congress leader said that 11 district cooperative banks in the country are run by the BJP leader in Gujarat. These banks have deposited Rs 14300 crore in just 5 days during the note-ban. The BJP President is nervous after this disclosure from yesterday. Surjewala said in the Gujarat government, Cabinet Minister, Jayesh Bhavittal Radadiya is the President of Rajkot District Co-operative Bank, where Rs 693.19 crore was deposited during the note-taking.
11 District Cooperative Banks in Gujarat which are run by BJP leaders oversaw deposits worth of ₹14,300cr in just 5 days during Demonetisation: @rssurjewala #ShahZyadaKhaGaya

— Congress Live (@INCIndiaLive) June 22, 2018
Surjewala said that who were those people, who knew that the note ban was about to happen. After the ban, PM Modi claimed that this will end black money. After 19 months, it has been exposed that this was the biggest scandal. The black money was converted to white.
He questioned PM Modi and Shah whether Prime Minister and Amit Shah would make the matter public that how much property was bought from BJP and where did this money come from?
Also read: Panama Paper Leak: Amitabh Bachchan to Hike CEO Kavin Bharti, big Indian names on the list; official says 'begun verifying new data'