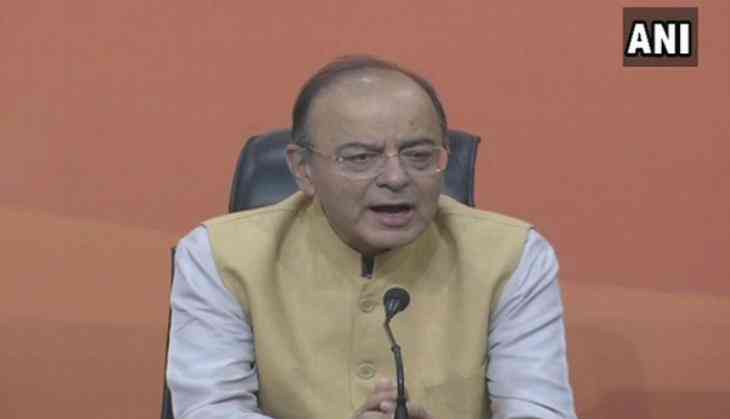 Ahead of the one-year anniversary of the demonetisation drive, Union Finance Minister Arun Jaitley on 7 Novewmber teared into the Congress over its continual condemnation of the Centre's economic reforms.
"The Congress never took any big step against black money. All that Manmohan Singh has to do is to compare the status of the Indian economy pre-2014 and post-2014. Pre-2014, the Indian economy was marred with policy paralysis, and today there is no agency that doesn't hail the reforms taken in Indian economy by Singh," Jaitley said, while addressing the media, here.
"The difference between the UPA and the NDA is policy paralysis and structural reform. Calling an ethical move like this a loot is not justified. Loot is one that took place in 2G, CWG and coal blocks allocation. As far as ethics are concerned, our point of view is different from that of the Congress. Their primary objective is to serve a family, and our objective is to serve the nation," he continued his scathing attack on the grand old party.
Jaitley further defended the demonetisation drive and said it was wrong to say it was an unprepared move, adding, "We had made all preparations needed."
"Terror funding was squeezed because of the demonetisation drive. The shell companies are also being easily identified," he said.
Earlier in the day, the finance minister released a blog on demonetisation on his Facebook, wherein he said that November 8 would be remembered "as a watershed moment in the history of Indian economy".
"When the country is participating in "Anti-Black Money Day", a debate was started that whether the entire exercise of demonetisation has served any intended purpose. This narrative attempts to bring out positive outcomes of demonetisation in short-term and medium-term with respect to stated objectives," he said.
In a detailed insight on the steps taken by the present government to curb corruption and circulation of black money, Jaitley said it was the "hidden urge" of a large section of society to get rid of this "menace".
Jaitley also opined that with the introduction of the move, the economy was moving towards a cleaner, transparent and honest financial system.
-ANI