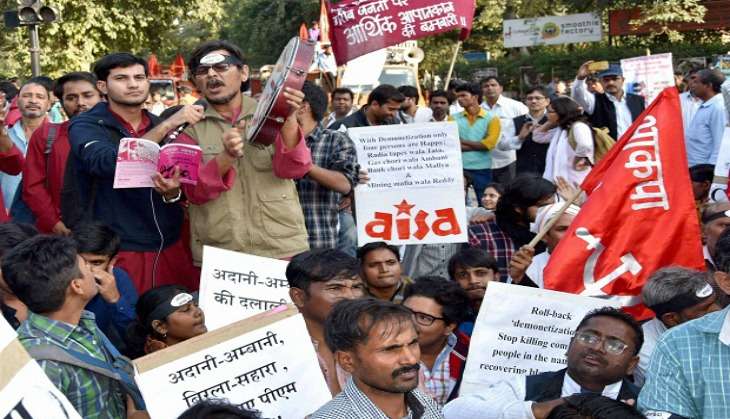 Around 150 people were detained on 26 November after they tried to proceed to Prime Minister Narendra Modi's residence to protest against the Centre's demonetisation move.
Students from various universities, workers and women from different parts of the city participated in the protest rally against note ban.
Students from varsities like Jawaharlal Nehru University, Delhi University, Jamia Milia Islamia and Ambedkar University participated in the rally.
Left-leaning All India Students' Association (AISA) organised Saturday's march and claimed that workers from Wazirpur, Noida, Narela and other industrial areas of the city had come to lend their support for the march.
On 26 November, the march started from Mandi House and proceeded towards Janpath.
"We are all demanding that the move of demonetisation be rolled back. This move has created an emergency-like situation in the country and it is becoming clear that the net gainers from this exercise are the corporate houses whose loans are being waived off," said AISA National President Sucheta De.
They said that Delhi Police did not allow them to march or proceed towards the Prime Minister's residence and they were detained instead.
"It has become a nightmare for the common people of the country. By spending hours outside banks and ATMs, workers are losing a day's work and are obviously not being compensated for their loss of hard earned income by the government.
"Those who have money stashed in Swiss and Panama accounts are sleeping soundly nevertheless even as the rest of the population is standing in queues," said Kavita Krishnan of All National Secretary of India Progressive Women's Association (AIPWA).
-PTI