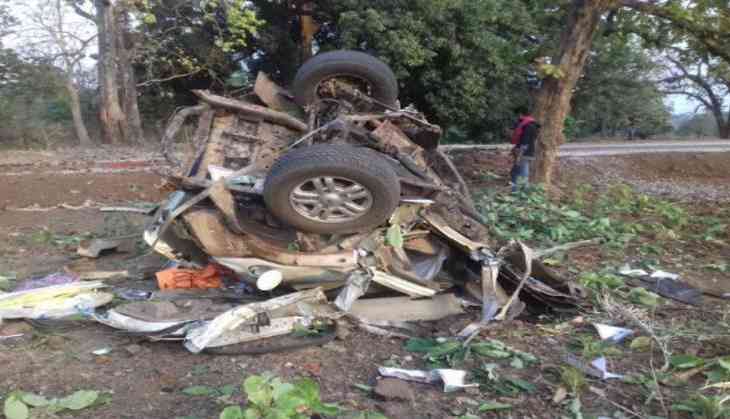 In a serious Naxals attack on Tuesday, the Bhartiya Janata Party (BJP) legislator, Bhima Mandavi, driver and three security personnel were killed in an improvised explosive device (IED) in Chhattisgarh's Bastar on Tuesday, just two days before the Lok Sabha polls. The region will be voting in the first phase of national polls that is on Thursday. The 40-year-old Bhima Mandavi was returning from election campaign as it was the last day.
The IED exploded when the convoy of Mandavi was passing through Shyamagiri hills in south Chhattisgarh's Dantewada district at about 4.30 pm. The police said Mandavi had gone to the area against their advice. "The police called him up and made two attempts to convince him. He did not listen and said that he knew the area," the police chief said.
#SpotVisuals: BJP MLA Bheema Mandavi killed in naxal attack in Dantewada. According to CRPF, the escort vehicle of Chhattisgarh State Police also came under the blast. 5 personnel of Chhattisgarh State Police are critically injured. pic.twitter.com/EdJMiQgjep

— ANI (@ANI) April 9, 2019
The Naxals affected Bastar Lok Sabha constituency votes with 90 other parliamentary wards on April 11 in the first phase of Lok Sabha polls.
The police said, along with Mandavi, the MLA from Dantewada, a driver identified as Danteshwar Maurya and three security personnel, district force troopers Chhagan Kuldeep, Somdu Kawasi and Ramlal Oyami, were killed in the IED blast.
Chhattisgarh Chief Minister Bhupesh Baghel termed the attack 'henious' and took a meeting of officials & reiterated. CM said, "So in desperation, Naxals committed this heinous crime. Naxalo ki har goli ka jawab unhi ki bhasha mein diya jaaye".
"I will be participating in the funeral tomorrow. The tribute will be paid to the jawans at Police ground. Home Minister, I and DG will be present there," Baghel added.
Dantewada votes on April 11 in the first phase. Elections will also be held in the state in two other phases, on April 18 and 23.
Also read: Veteran Kerala politician KM Mani passes away at 86, after prolonged illness