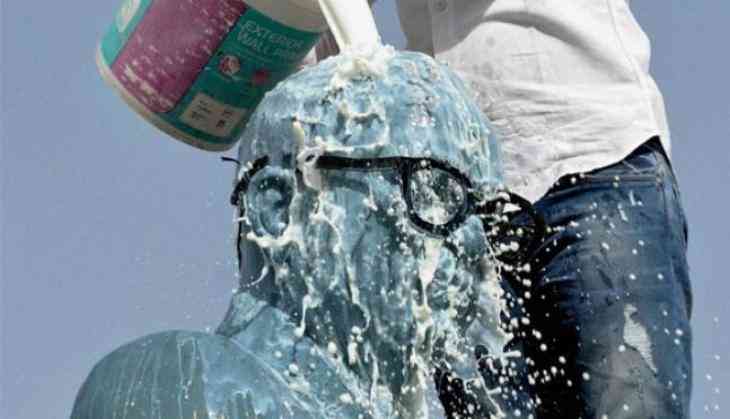 On the occasion of the 127th birth anniversary of Dr BR Ambedkar, several political leaders and Dalits paid their tributes to the man who gave India its first Constitution. Ahead of Ambedkar Jayanti, BJP Union Minister Maneka Gandhi and some BJP leaders paid their tributes to Babasaheb in Vadodara after which Dalit members cleansed B R Ambedkar's statue with 'milk' on Saturday claiming their presence have polluted the atmosphere.
According to Thaor Solanki, general secretary of SC/ST employees Union of the Maharaja Sayajirao University of Baroda says that they gathered at the venue to pay their tribute to their idol before the BJP leaders.
"We told the police that since we had gathered there much before the BJP leaders came, it was our right to pay tributes first. However, police prevented us from garlanding the statue stating that as per the protocol, it was the mayors right. This angered our members," Solanki said.
"The statue and the atmosphere in the GEB circle area was polluted after the arrival of Gandhi and other BJP leaders. Therefore, we cleansed Ambedkar's statue with milk and water after it was garlanded by the BJP leaders," he added.
The Women and Child Development minister arrived at the venue along with the BJP MP Ranjanben Bhatt, city mayor Bharat Dangar, BJP MLA Yogesh Patel and others. The Dalit community members, led by Solanki raised the slogans against them. An argument broke out between them and the police personnel, but no untoward incident took place.
Also read: Heart-breaking cartoons depict the brutal Kathua, Unnao rape cases