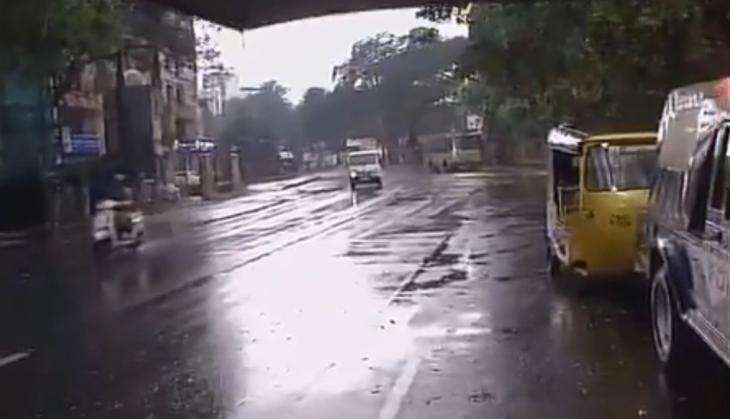 Over 15 NDRF teams have been deployed in various coastal regions of Tamil Nadu and Andhra Pradesh for relief and rescue efforts as cyclonic storm 'Vardah' is expected to make landfall this afternoon.
National Disaster Response Force (NDRF) chief RK Pachnanda said while eight teams are ready in various areas of Tamil Nadu, seven are in Andhra Pradesh, apart from few others in nearby locations.
"Some more teams are on alert in Arrakonam and Guntur and they can be transported immediately in case they are required. We are in constant touch with the two state governments, the Indian Meteorological Department and other relief agencies," the NDRF Director General said.
Each NDRF team, comprising about 45 personnel, has been equipped with rescue gadgets and boats in order to respond to any situation emerging due to the cyclone.
"All arrangements are in place and regular updates are being shared," the DG said.
Heavy rains lashed Chennai, Tiruvallore and Kancheepuram districts since early morning. Power supply was suspended in many parts of these regions as a precautionary measure.
The armed forces have also been asked to be on standby with the army, navy and air force prepared to be deployed anytime as and when required.
Senthil Kumar, Assistant Commandant NDRF, said two teams have been deployed in Sullurpeta and one in Tada and one reserve team in Nellore.
"In case of heavy rainfall in low lying areas, we will evacuate immediately. As trees may uproot due to high windspeed, we have tree-cutting equipment to tackle it. We will take immediate action," he said.
SP Selvam, DIG, NDRF, said the personnel are conducting recce of the areas and familiarising themselves with the help of local guides.
"There is a lot of change in preparedness compared to previous years. The state agencies had a meeting yesterday. The chief secretary of Tamil Nadu government held a meeting. High-level meetings were held by the government of Andhra Pradesh also, which our officers attended," he said.
"There was assessment about the requirements and accordingly we have placed the teams," he added.
He stated that the high velocity winds may cause damage to light infrastructure like thatched huts and trees and may cause traffic jams as trees may fall down.
"The state administration is prepared for clearing up roads and rescuing people. Our teams work with the state authorities. Vulnerable areas have been assessed and accordingly, teams have been placed. In Chennai, two teams have been placed in Basin bridge and one is in Adayar, and one team each in Kanchipuram and Mahabalipuram," he said.
--PTI