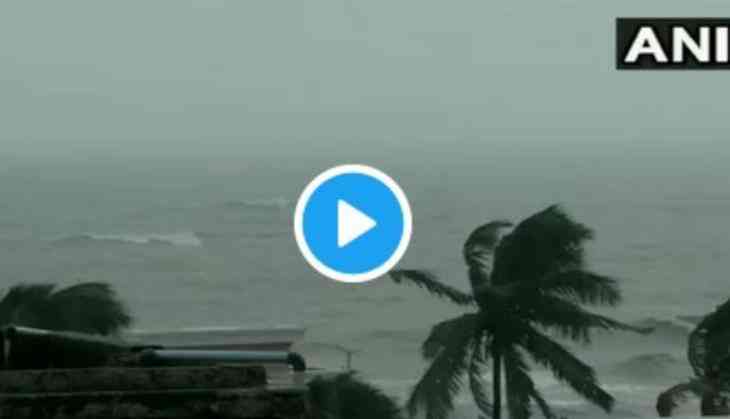 As expected Cyclone Fani has arrived in Odisha by hitting Puri first at around 9 AM. Cyclone Fani starts into the coast of Odisha's Puri district since Friday morning. Fani that is also pronounced as 'Foni' is expected to move into West Bengal in next few days.
Later it will travel to Bangladesh and then it will re-enter in Northeast. The scale of cyclone Fani is extremely severe and it has attracted international attention as well. The Indian government have evacuated around 8 lakh people from Odisha. There are no reports of casualties yet but the way it has hit the Odisha is really disastrous. Several house and trees have been damaged.
#CycloneFani #Fani #FaniUpdates: how it looks at Ground Zero at Puri https://t.co/1EjTHKR0ct

— PIB India (@PIB_India) May 3, 2019
The sound and the fury : here's what the landfall at Puri by #CycloneFani actually looked like..

Video by @PIBBhubaneswar pic.twitter.com/4GpvKFkRQ3

— PIB India (@PIB_India) May 3, 2019
Impact of "Fani" in costal region of Andhra.

This severe cylone set to make a landfall at Odisha coast by today forenoon. ..

Wind speed likely to be between 170-180kmph and may go up to 225kmph. pic.twitter.com/KoXgQilqsR

— snehanshu shekhar (@snehanshus) May 3, 2019
Puri circuit house near the sea beach as Cyclone Fani hits Odisha pic.twitter.com/ZLfI6uz9JX

— Priyarag Verma (@priyarag) May 3, 2019
BJP Spokesperson Sambit Patra tweeted a video while giving a caption, "Everything is flying in the air. Have literally turned deaf because of wind sound. All window panes broken," Sambit Patra ran for the Puri parliamentary seat in on-going general elections 2019. He took it further, "If this is my condition in a concrete building...I pray for the lives of millions."
The process of landfall of #CycloneFani has begun ..extremely high wind speed ..heavy rain ..the harrowing sound ..reminds me of 1999 Supercyclone
With folded hands I pray to Lord Almighty Jaganath ji to give us the strength to endure this🙏 pic.twitter.com/BXkdNQlULm

— Chowkidar Sambit Patra (@sambitswaraj) May 3, 2019
#WATCH Visuals from coastal town of Digha in West Bengal as #CycloneFani is expected to make landfall in Odisha's Puri district by 11 am. According to the Met Dept, the impact of landfall process has begun. pic.twitter.com/R5iJY4vjGD

— ANI (@ANI) May 3, 2019
Effect of #CycloneFani at Balipanta in Khordha district of Odisha
Src : NDRF pic.twitter.com/lWmCY81AMJ

— All India Radio News (@airnewsalerts) May 3, 2019
#WATCH Odisha: Strong winds and rainfall hit Puri. #CycloneFani is expected to make a landfall in Puri district today. Visuals from near Puri Beach. pic.twitter.com/Wc9i851CNY

— ANI (@ANI) May 3, 2019
The officer of Odisha CM, Naveen Patnaik said on Friday morning, around 5,000 kitchens had started operations to cater to people in shelters. Tens of thousands of food packets were ready to be airdropped.
Let us tell you that in 1999, a super-cyclone hit Odisha's coasts that killed around 10 thousand people. In 2013, a mass evacuation in nearly a million people saved several lives.
Also Read - Cyclone 'Fani' hits Odisha today, IMD hopes for no casualty