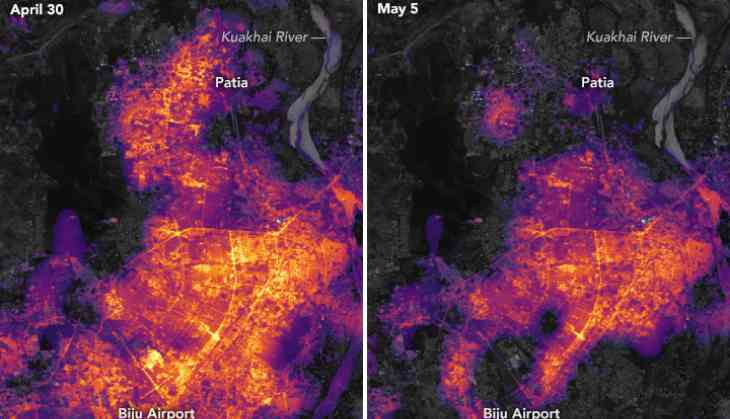 In the starting of the month, Odisha witnessed the most tragedic cyclonic storm Fani or the 'Hood of Snake' since 1999. Earlier in 1999 Odisha had to face the toughest time of getting attacked by the cyclonic storm.
The cyclone came with the power of wind having speed more than 200 Kmph that made a landfall in Odisha on 3rd May. The storm caused several deaths and made many people homeless in the many cities of Odisha like Puri, Bhubaneswar, Cuttack, and Khurda.
The cyclone left disastrous in large parts of Odisha, with the seaside areas in the worst hit. Cyclone Fani also impacted on the city's energy infrastructure and buildings, leaving around 3.5 million people having without electric power for days after the storm.
Now US space agency, NASA shared some images showing the lights went out actress some of the worst affected areas in Odisha post-Cyclone Fani. These images are the comparison between 30th April (before the storm) and 5th May (after the storm).
Power outages in #Bhubaneswar and #Cuttack after Cyclone #Fani. https://t.co/X7A9NYDsGi #NASA #India pic.twitter.com/fA4raahpyb

— NASA Earth (@NASAEarth) May 8, 2019
The Telecommunication lines got disconnected in several parts of state capital Bhubaneswar and other parts of Odisha. Mobile towers in the cities were damaged and power supply was disconnected.
Also Read - Congress snatched farmers' land, reaped 'crop of corruption' in Haryana: PM Modi