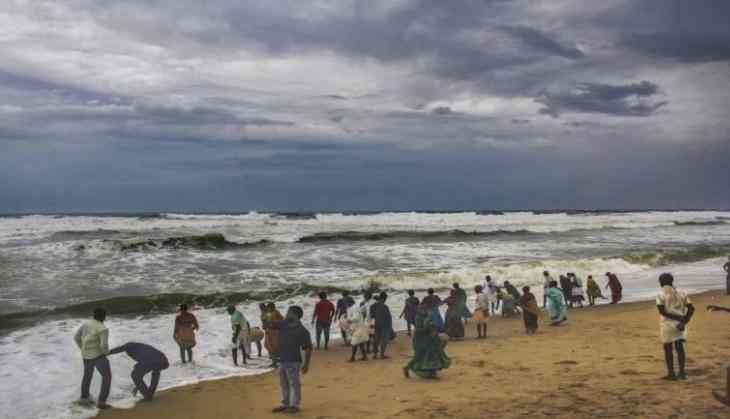 Cyclone Amphan over the Bay of Bengal is most likely to intensify into a severe cyclonic storm within the next 12 hours and into even severe storm by Monday, India Meteorogical Department (IMD) has notified.
Amphan, which is above the southeast Bay of Bengal moved north with a speed of 6 kmph in the past 6 hours, intensified a little and lay centered over the same region at 5:30 am this morning.
The cyclonic storm, named UM-PUN, is very likely to move north in the next 12 hours and then re-curve north across northwest Bay of Bengal-Bangladesh coasts between Sagar Island and Hatiya Island of Bangladesh.
All you need to know:
* 12 districts in Odisha - Ganjam, Gajapati, Puri, Jagatsinghpur, Kendrapara, Bhadrak, Balasore, Mayurbhanj, Jajpur, Cuttack, Khurda and Nayagarh have been placed under alert following IMD's drediction.
* Odisha CM Naveen Patnaik has set a target of zero casualty before administration, which is in the thick of a battle against coronavirus.
* The Odisha government has predicted that around 7 lakh people in 649 villages along the sea coast are to be severely affected by Cyclone Amphan.
* The state government has asked the Centre to temporarily suspend 'Shramik Special' trains passing through areas falling in the direction of Cyclone.
* The cyclone is likely to cause very heavy rain in the coastal districts of West Bengal from 19th May. The system is likely to intensify into a severe cyclonic storm by Sunday and move north-northwestwards untill 17th May.
* It's also likely to recurve north-northeastwards thereafter towards West Bengal coast.
* Coasts of West Bengal, including North and South 24 Parganas, Kolkata, East and West Midnapore, Howrah and Hooghly will receive heavy rain on May 19 and 20.
* Fishermen have been asked not to go into north Bay of Bengal along and off West Bengal-Odisha coasts from May 18 to 21 and those who are out in the sea were asked to return.
* Disaster management teams are being sent to cyclone shelters in the coastal regions and other places of West Bengal for rescue and relief operations. NDRF teams will also be deployed.
* The activites of the Odisha Disaster Rapid Action Force (ODRF), National Disaster Response Force (NDRF) and Fire Service personnel has already begun in Odisha.
* Odisha has also suspended leave of all govt employees in the 12 coastal districts.
* The Indian Coast Guard has also made preparations for maritime search and rescue operations.
Also Read: COVID-19 Lockdown: 56 pregnant nurses stranded abroad approach Delhi HC seeking facilitation of their return