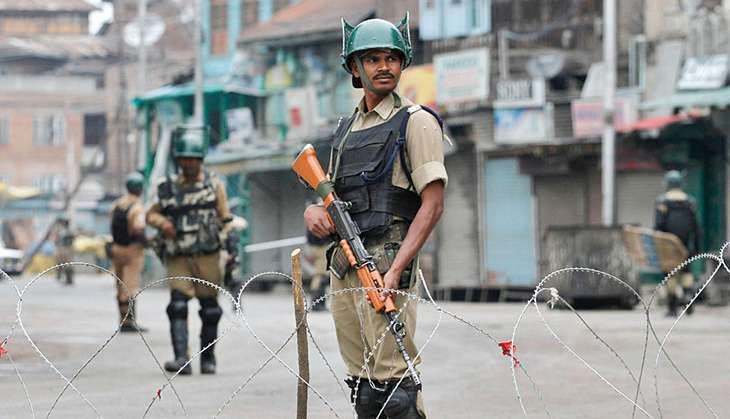 Addressing a press conference today, Director General of Central Reserve Police Force K Durga Prasad said that no weapon is "non-lethal" and pellet guns, often used for crowd control in Kashmir Valley, was the "least-lethal" option available with the force.
"We feel very sorry for them as youngsters have to bear injuries due to the firing of pellet guns. We ourselves are trying to use it in bare minimum so that there are less injuries. But we use them under the extreme situations when crowd control fails by other means," he said replying to a volley of questions on the use of pellet guns in Kashmir Valley.
A large number of youths have been injured in the last fortnight when CRPF personnel used pellet guns to control violent protesters in the wake of Burhan Wani's killing. Wani was the commander of militant group Hizbul Mujahideen.
The paramilitary force has received widespread criticism for the use of this category of non-lethal weapon, prompting Union Home Minister Rajnath Singh to announce in Parliament that a committee will be set up to review use of pellet guns and find an alternative to it.
"Everybody feels bad when youngsters get hit. But still, we will have to use it (pellet guns) in extreme situations as of now. We hope that any (extreme) situation does not arise (in future)," the CRPF chief said, ahead of the force's 77th raising day on Wednesday.
Prasad said the CRPF is already experimenting with the other options under the less-lethal weapon category available globally.
Explaining the stress under which the CRPF personnel were deployed in Kashmir Valley, he said as many as 114 companies (about 11,400 personnel), which were undergoing training elsewhere, had to be pulled out and deployed in the state to control the situation arising after Wani's death.
"Our annual training has suffered as we are in continuous deployment. As of today, all our training companies are deployed in some theatre or the other.
---PTI