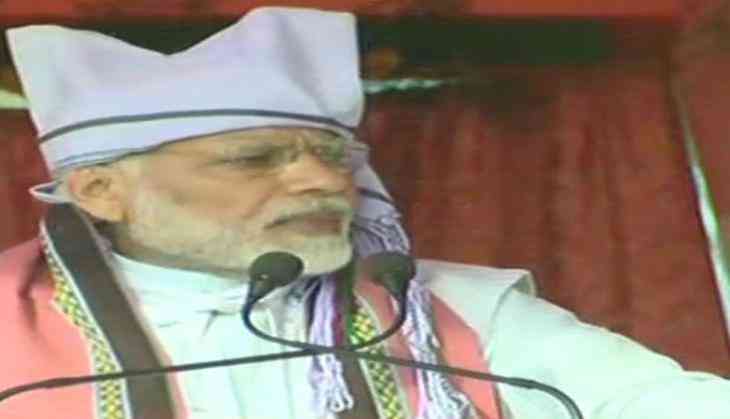 Prime Minister Narendra Modi on Thursday fired a fresh salvo at the ruling Left government in the poll-bound Tripura and said the latter party does not believe in democracy but violence.
Addressing a gathering at Santirbazar in Tripura, the Prime Minister said, "Communist Party does not believe in 'gantantra' they believe in violence and 'gun-tantra'. Left party in Tripura does not believe in democracy. What they believe in is violence."
He further said that the Left party wass attacking the Bharatiya Janata Party (BJP) workers in the state as it is scared of its defeat in the elections.
Exhorting the people of the state to oust the CPI(M) government from power, the Prime Minister said, "They (CPI-M ) will have to answer about all their wrongdoings in the last 25 years. People of Tripura have suffered for 25 years due to the misrule of Left party. I urge people of the state to remove them."
He also took a dig at the Congress party saying that the "Left and Congress are two sides of same coin who have ruined the state."
The Prime Minister further questioned the CPI(M) government for not ensuring the minimum wages and not implementing the recommendations of seventh pay commission.
He also recounted the work done by the Centre for Tripura and said, "We want to enhance connectivity in Tripura. In our journey to build a 'New India', we also want to build a modern and new Tripura. We simplified the norms relating to bamboo. Earlier it was classified as a tree, we changed it to grass. This helped so many bamboo growers."
The legislative assembly election in the CPI(M)-ruled state will be held on February 18 to elect members of the 60 constituencies.
--ANI