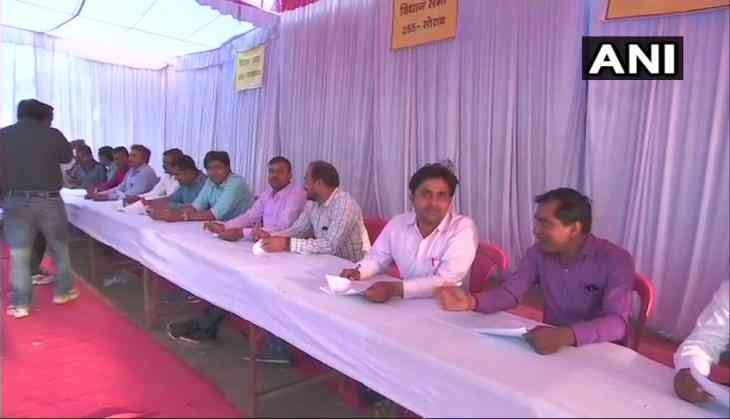 Counting begins for UP, Bihar bypolls
The counting of votes for the by-election for three Lok Sabha and two Assembly seats in Uttar Pradesh and Bihar, has begun.
Tight security arrangements have been made for the counting of ballots in the area and the results are expected to be declared by afternoon.
In Uttar Pradesh, the by-elections were held for the Gorakhpur and Phulpur Lok Sabha constituencies, on March 11.
A 47.45 percent of voter turnout was recorded in Gorakhpur constituency, while Phulpur witnessed a polling percentage of 37.39 percent in the election.
The by-polls were necessitated after Chief Minister Yogi Adityanath and Deputy Chief Minister Keshav Prasad Maurya vacated their seats in Gorakhpur and Phulpur, respectively, on taking office.
For Gorakhpur, the key contenders are Upendra Shukla from the Bharatiya Janata Party (BJP), Praveen Nishad from the Samajwadi Party (SP) and Surhita Chatterjee Karim from the Congress Party.
Meanwhile, candidates in the fray for the Phulpur seat are Kaushalendra Singh Patel from the BJP, Nagendra Pratap Singh Patel from the SP and Manish Mishra from the Congress Party.
For these by-polls, the Bahujan Samaj Party (BSP) and the SP have set aside their rivalry to join forces.
In Bihar, the by-elections were held the same day for the Araria Lok Sabha seat and Jehanabad and Bhabua Assembly seats.
A 57 percent voter turnout was recorded in Araria Lok Sabha by-elections, whereas Jehanabad and Bhabua constituencies recorded 50.6 percent and 54.3 percent, respectively.
The Araria seat fell vacant after the death of Rashtriya Janata Dal (RJD) MP Mohammad Taslimuddin, and the party fielded his son Sarafaraz Alam, who is contending for the seat against the BJP's Pradip Singh.
The Bhabua assembly seat got vacant after the death of BJP's Anand Bhushan Pandey, and the party has fielded his widow Rinki Rani Pandey. Another key candidate for the seat is Shambhu Patel from Congress.
The death of RJD MLA Mundrika Singh Yadav necessitated the by-poll for Jehanabad seat, and his son Uday Yadav is contesting for the seat. Another key candidate in the fray is JDU's Abhiram Sharma.
-ANI