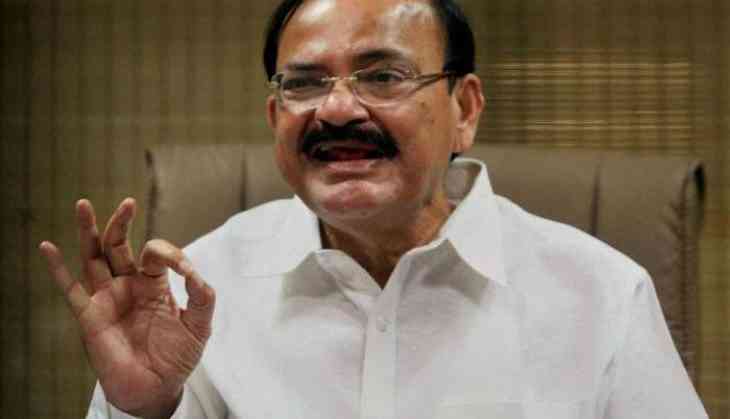 Asserting that caste has no relevance today, Vice President M Venkaiah Naidu said cooperatives are the need of the hour for creating social harmony when caste, creed and religion are trying to dominate the minds of people.
He stressed that character, calibre, capacity and conduct are important in public life even as he rued that some people are trying to replace it with caste, community, cash and criminality.
The Vice President said the principles and values that cooperatives follow not only help in sustaining their business but also create social harmony irrespective of caste, creed or any other distinction.
"Nowadays, where caste, creed and religion are trying to dominate the minds of people, cooperative is the need of the hour... Caste has no relevance today," he said.
Delivering the 19th Vaikunth Bhai Mehta Memorial Lecture here, Naidu said one has to go back to character, calibre, capacity and conduct of individuals rather than going by caste, criminality, cash and community.
"This is the work of an individual who does not have those qualities and who finds its easy to provoke caste, communalise and use cash and then to earn cash. That is the way people are doing. It is a very dangerous trend. It should be curbed," he said.
The lecture was organised by the National Cooperative Union of India (NCUI).
Naidu also talked about the pioneering cooperator Vaikunthbhai Mehta, who was more interested in Mahatma Gandhi's constructive work than in politics.
"What is required then and now is constructive work. We are seeing more destruction in certain segments of the society which is not good. What is required is constructive attitude," he said.
Expressing concern over most district cooperative banks being in debt, Naidu said it is because of "mismanagement" and not because of the failure of the system.
The Vice President said that as the Chairman of Rajya Sabha, he told members in the Upper House that "my operation will depend on cooperative (principles). Otherwise, there will be separation".
If cooperative movement is seeing some setback, Naidu said it is because of wrong operation and sometime non-cooperation.
On Jan Dhan Scheme, which seeks to promote financial inclusion, Naidu said some of them made fun of the scheme.
"What is the point opening a bank account when there is no money. Those who argued realised in November 2016 about the importance of these bank accounts," he said, adding that those who had money started asking their drivers and cooks about this new bank accounts so that they can stash money.
"RBI is inquiring about it. We will get to know about it. Money which was stashed in bedroom, below the pillows and even in bathroom -- all reached the bank accounts. This was the purpose of the scheme...," Naidu said.
In November 2016, the government had cancelled old Rs 500 and Rs 1,000 currency notes as legal tenders, as part of efforts to curb illicit fund flows.
Naidu also said that the RBI would tell how much was the black and white money. Income Tax department would have to see. Sooner the RBI looks into it, it would be good for the country, he added.
For doubling farmers' income by 2022, Naidu said, "the agricultural cooperatives can play a vital role in educating the farmers to reduce the cost of cultivation".
This can be done through balanced use of fertiliser, improve water use efficiency, establish more warehouse to avoid distress sale of produce, link with eNAM and emphasise value addition and allied activities, he added.
At the grass root level, Naidu said the impact of cooperative sector has a big role in bringing the urban-rural divide and creating opportunities for income generation.
Naidu also emphasised on the need to strengthen the cooperatives so that they can work for the welfare of farmers and give them credit at the time they need at a reasonable rate of interest.
Calling upon the state governments to strengthen cooperatives to solve the problem of unemployment and engaging more women, Naidu said, "it is high time that cooperatives at all levels gear up to meet the future challenges in a professional manner".
Noting that Mehta left politics and joined cooperative movement on advice of Mahatma Gandhi, Naidu said, "Now a days, leaving politics is not an easy thing. Unless you are rejected and you have become dejected, people do not retire from politics".
"Attraction of the chair is very powerful, even if the work is nil," he said lauding Mehta as a man of genuine humility who abhorred publicity of any kind.
Mehta made a pioneering contribution to the growth of cooperative movement, particularly in educating and training people. He had left his ministerial post to be part of cooperative movement in 1950s.
(PTI)