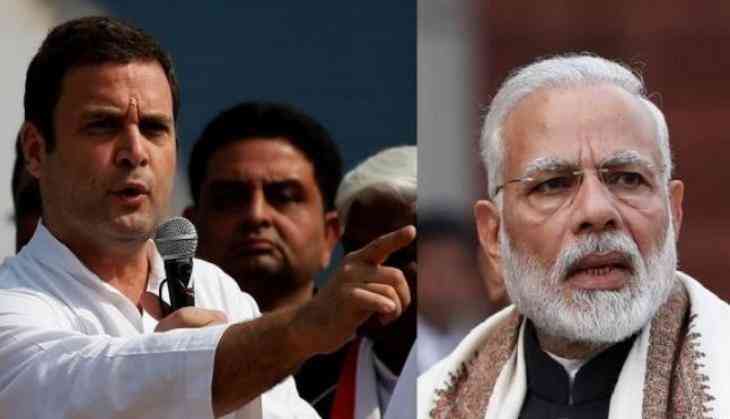 Ahead of 2019 General Elections the ruling party and oppositions are at words of war zones. Once again the Congress chief Rahul Gandhi took a dig on PM Narendra Modi over the alleged favours given to pass the multi-crore Rafale Fighter Jet deal. Rahul Gandhi issued a tweet 'Modi Scam Alert' on Saturday. Gandhi tweeted, "15 Billion $ fighter jet deal re-tendered. PM's friend's race to tie up STRATEGIC partners. RAFALE, 40,000 Cr. loss to the exchequer was "Sayonara" money to French, so PM could re-tender contract and favour friends. (sic)."
Rahul Gandhi has accused Narendra Modi-led BJP government of causing over Rs. 40,000 crore loss to the exchequer in the deal of Rafale fighter jet purchased from France. The opposition is asserting that the 36 Rafale fighter planes with the French government were finalised by the Centre at a higher price than the previous deal for 126 medium multi-role combat aircraft (MMRCA) negotiated by the UPA government, report Zee.
The Modi government has refuted the request of Congress over the disclosing of the price of the dal. Defence Minister Nirmala Sitharaman said the price of the jets cannot be revealed in the interest of national security.
"Rahul Gandhi is searching for ammunition against the government but hasn't found anything. So he's fishing. Rafale is a classic example of inter-governmental agreement to help our air forces. In every way, we have got a good deal, both in terms of preparedness as well as on the price. But revealing the price would mean compromising national security. I don't want to satisfy Rahul Gandhi's ego and reveal details of avionics, ammunition and the changes made as per the country conditions to this sophisticated aircraft," she had said.
Both the country India and France have signed an agreement in March on the Exchange and Reciprocal Protection of Classified or Protected Information during the visit of French President Emmanuel Macron, replacing an earlier pact signed in 2008.
This agreement defines the common security regulations applicable to any exchange of classified and protected information between the two countries, say reports.
Also read: Sheena Bora murder accused Indrani Mukherjea admitted to ICU; no one being allowed to meet her