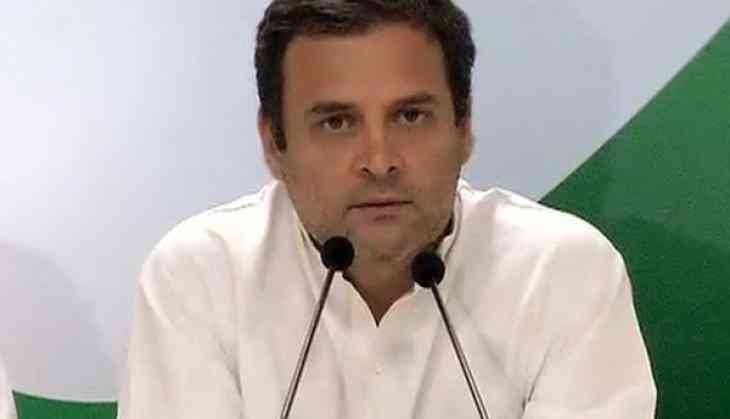 The Congress on Saturday demanded the Centre to declare Kerala floods a national disaster.
Congress President Rahul Gandhi tweeted, "Dear PM, Please declare #Kerala floods a National Disaster without any delay. The lives, livelihood and future of millions of our people is at stake."
His statement comes an hour after Prime Minister Narendra Modi announced Rs 500 crore interim relief to the state following a review meeting with Chief Minister Pinarayi Vijayan and Union Minister KJ Alphons. This is in addition to Rs. 100 crore announced by Home Minister Rajnath Singh on August 12.
Meanwhile, other Congress leaders also demanded more help from the Centre and other states for flood-hit state. Speaking to ANI, Congress leader PC Chacko said that "Thousands of people are marooned and facing a very severe, critical situation and more emergency evacuation operation is needed. What is being done is appreciable but we need more help from the Centre and other states as Kerala is in distress".
Resonating similar views, Congress spokesperson Randeep Surjewala reasoned out that the state could get more resources from the Centre if the calamity was declared a national disaster. "Kerala flood is a heart rending sight to see. If the calamity is declared a national disaster, it may help the state to access more resources from the Centre such as defence apparatus for rescue operations, money for rehabilitation works, and more food grains," Surjewala told ANI.
However, the Bharatiya Janata Party (BJP) rejected the idea of such classification as national disaster for Kerala floods. Speaking to ANI, BJP leader Subramanian Swamy asserted, "Kerala floods is a serious matter. It is sad to see the pictures and the images. They are shocking. But floods do happen, not just in India but in other countries too. I think the central government is doing its best in all possible ways. Now it is the municipality level officials who have to work on further orders."
On Friday, Punjab Chief Minister Captain Amarinder Singh announced Rs 10 crore worth of immediate relief. Besides him, Andhra Pradesh Chief Minister Nara Chandrababu Naidu, Telangana Chief Minister K. Chandrasekhar Rao and Delhi Chief Minister Arvind Kejriwal have also announced immediate financial help for the relief works.
Prime Minister Narendra Modi, who is on a two-day visit to Kerala, conducted an aerial survey of the damages caused due to flash floods and took stock of the situation.
(ANI)