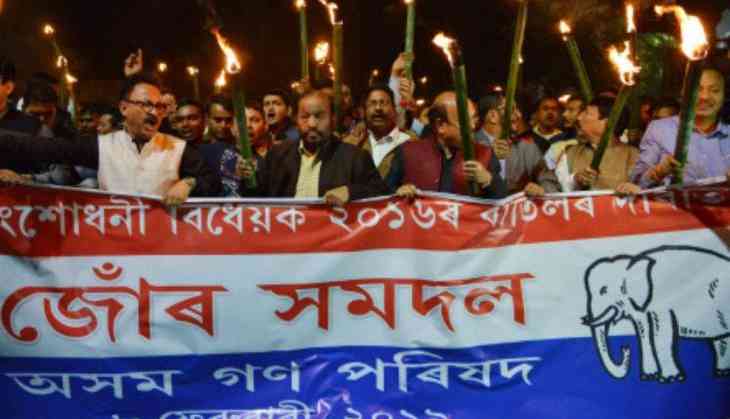 Citizenship Amendment Bill 2016
As the Northeast burns in protest over the implementation of the controversial Citizenship Amendment Bill of 2016, it will get tabled in the Rajya Sabha today.
The Bill will be moved by the Home Minister Rajnath Singh, and the BJP has gone all out to support the bill inspite of all the protests and dissent happening across the region.
The Bill aims citizenship to provide citizenship to the six minority groups from Afghanistan, Pakistan and Bangladesh except Muslims and hence, it being seen as anti-Muslim and in violation of the Assam Accord.
Thoroughly enjoyed an exhilarating evening in New Delhi where I had a great opportunity to meet people from diverse backgrounds, and allayed misconceptions & apprehensions on NE, #CitizenshipBill among others. Thanks to @vifindia for this #NEDA@NEDAIndia pic.twitter.com/P1PnxgR1dr

— Himanta Biswa Sarma (@himantabiswa) January 11, 2019
The Citizenship Amendment Bill will amend the ongoing governing which was formed in 1955 to provide nationality to those who have fled the religious persecution from Afghanistan, Pakistan and Bangladesh and belong to Hindus, Sikhs, Buddhists, Jains, Parsis and Christians.
Home Minister Rajnath Singh, while replying to the questions posed in Parliament said, "The burden of those persecuted migrants will be shared by the whole country. Assam alone should not have to bear the entire burden, the government of India is committed to give all help to the state government and people of Assam."
While PM Narendra Modi was in Assam last week, he said that lies are being spread in the name of Citizenship Bill in the Northeast region which must stop.
"Those who sit in AC rooms in Delhi, who fight us in the parliament are spreading misinformation. But the BJP is committed to protecting the culture and resources of Assam and the northeast. The Clause 6, which is the soul of Assam Accord, has remained unimplemented for the last 35 years and our government will implement it in letter and spirit."
Also read: Citizenship Bill row: Bhupen Hazarika's son turns down Bharat Ratna in protest against Citizenship