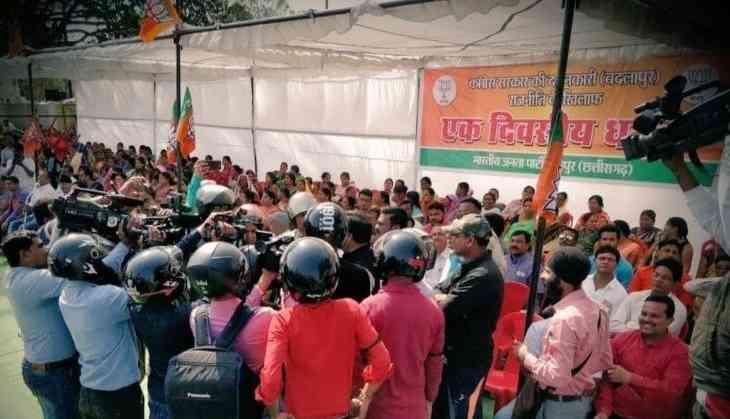 Journalists wearing helmet in Chhattisgarh
In a shocking incident, journalists from Chhattisgarh wore helmets during a press conference other than their usual gears of mic, cameras, phone etc.
In the capital city of Raipur, the journalists protested against the attack on a scribe last week while he was covering the BJP's meeting over the loss of poll and was thrashed by the party workers of the BJP and supporters of the right-wing groups.
The journalists, who gathered to cover a BJP event said that they were silently protesting against the attack on a fellow scribe and wanted to send a symbolic message to the political party's across the spectrum, that media should be allowed to report and freedom of speech and expression must not be muzzled.
After BJP leaders assaulted a journalist in #Chhattisgarh, journalists are protesting by wearing #helmets. @RahulGandhi pic.twitter.com/VHgEVpc6nN

— Deepu Patidar (@DeepuPatidarINC) February 6, 2019
Last week on Saturday. Suman Pandey, who works with the news website The Voices was covering the BJP meet and was attacked for capturing the proceedings of the meeting.
The Chhattisgarh Police arrested 4 BJP functionaries, along with the Raipur BJP chief Rajeev Agarwal, on the FIR registered by the journalist.
Suman Pandey said, "I was recording a video of the meeting on my mobile phone when suddenly BJP leaders started arguing among themselves over some issue. Rajeev Agarwal and another person, Utkarsh Trivedi, told me to delete the video of the scuffle, which I refused. They then started hitting me and forcefully deleted the video."
Pandey further added, saying, "I was made to sit inside the meeting room for about 20 minutes. When I came out, I told other journalists about the incident."
Also read: As Priyanka Gandhi dropped husband Robert Vadra at ED office, agency grills him for 5 hours in direct